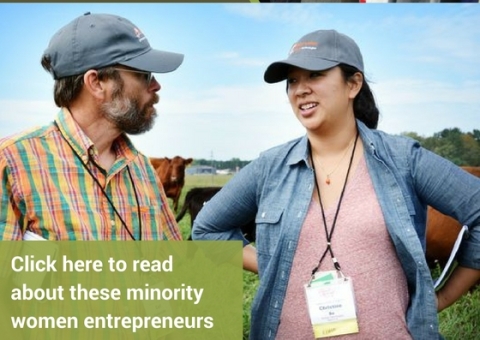 Amy Hsiao-mei Wu
The agricultural-technology industry is a new and daunting frontier – especially for women, who own 14% of U.S. farms, according to Amy Hsiao-mei Wu. Wu published a series of for The Salinas Californian profiling four, minority-woman-owned start-ups that are breaking new ground in the male-dominated field that combines technology with agriculture to help farmers manage and improve crop yields.
Natalie Van Hoozer
Reno, NV, is a city that is recognizing the contributions women entrepreneurs are making and has found ways to help them to succeed. Student reporter and ICFJ contest winner Natalie Van Hoozer captures the struggles of some of these intrepid entrepreneurs in her bilingual (Spanish and English), multi-media reports. In stories for Noticiero Móvil and Reno Public Radio, she depicts their struggles to overcome language barriers and financial challenges to create and sustain independent businesses.
Amaris Castillo
As a journalist and a woman of color, Amaris Castillo is dedicated to sharing stories about women who are like her. For her reporting project, Castillo takes a candid look at Iran Ortiz, a New York-based Latina fashion entrepreneur, published by The Uptown Collective. Castillo, a reporter for The Lowell Sun News in Massachusetts, focuses on how Ortiz has had to "hustle" to achieve her dreams, working nights as a bartender and days in her boutique, which is housed in a bright purple truck.
Kristine De Leon
Kristine De Leon, a reporter who is based in California and works primarily for Mongolia's UB Post, explores the role of women in the U.S. logistics-and-transportation industry in her reporting project for the Atavist. In 2015, women represented just 13% of the U.S. transportation and logistics workforce, according to the U.S. Department of Transportation. The two women De Leon profiles are thriving thanks to their hard work and willingness to face challenges without fear.
Rasha Goel
Rasha Goel's report, aired by TV Asia USA, looks at a South Asian-American business woman who developed a $21 million global cosmetics empire that also aims to empower other women entrepreneurs. Goel, a producer and international correspondent with LA35, CNN-IBN and France 24, tracks the trajectory of Shalini Vadhera Potts, a makeup artist for celebrities whose business celebrates "the fact that American is the melting pot of the world."
Phillip Martin
Phillip Martin, a senior reporter at WGBH Boston Public Radio, explores the success of women from Boston's Caribbean-American community in two stories. Martin's main report profiles Collete Phillips, whose success is an example of how enterprising business people from the Caribbean have had an impact on Boston. Phillips tells Martin that the entrepreneurial gene is "in the DNA of Caribbean people." Dubbed by Boston Magazine one of the city's 100 most influential women, Phillips explains how she created one of Massachusetts' top 25 public relations firms.