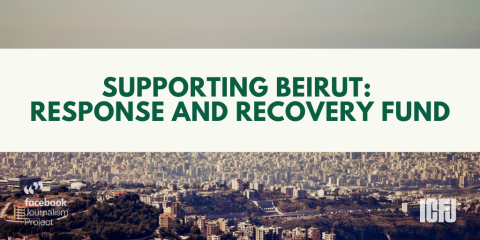 Following the 2020 Beirut explosion, ICFJ partnered with the Facebook Journalism Project to support journalists and news organizations affected by the devastating blast. The initiative helped local news outlets that suffered damage to infrastructure and resources get back on their feet. In fall of 2021, ICFJ will administer the second phase of the program, designed to help Lebanese journalists and newsrooms boost their audience engagement strategies and strengthen their business operations. 
About the program
In its second phase, the program will provide training on media sustainability and audience engagement tracks for journalists and newsrooms, three months of one-on-one mentorship, as well as emergency funds of up to $10,000 for media organizations in Lebanon.
The program includes the following core components:
An intensive four-week online course that offers a combination of subject matter and technical training on media sustainability and audience engagement. The aim is to help journalists and newsrooms that are producing high-quality news improve the reach of their work. Also, it will equip them with skills to create successful revenue streams.
The media experts who will lead the online course will also be available for "office hours" over four weeks to meet the needs of the participating newsrooms.

 

After participating newsrooms complete the training, they will be asked to apply for an emergency fund. About six media organizations will receive the emergency fund as well as dedicated three-month mentorship and guidance from media experts that will help newsrooms refine their business strategies. 
Journalists can apply to participate in the four-week training, but only media organizations can apply to receive mentoring and the emergency fund. ICFJ will follow these criteria to identify and select recipients: 
News organizations must: 
Be based in Lebanon
Primarily serve Lebanese audiences
Damaged as a direct result of the August 4, 2020 Beirut explosion or the economic/financial situation in Lebanon.
Have been in operation for at least two years
Employ at least five journalists 
Have an online presence
Must have demonstrated a journalistic record
In addition to the criteria mentioned above, news organizations will only be eligible for emergency funds once vetted and cleared through the Excluded Parties List System, a U.S. government database that identifies names and vendors that are sanctioned, unallowed, or otherwise disqualified from receiving funding. 
Program Dates:
9/14/2021 - 3/31/2022