Egyptian Blogger
Recipient, Knight International Journalism Award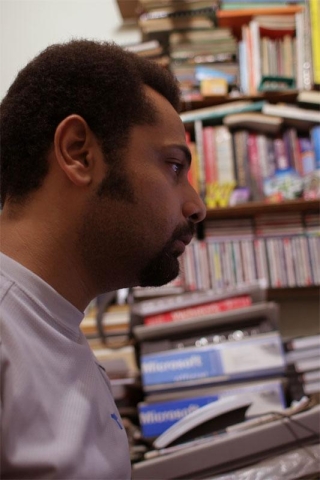 For 33-year-old Wael Abbas, the Web log is not merely a personal journal. The Egyptian citizen journalist–the first to win a Knight International Journalism Award–sees his blog as one of the few avenues for free speech in a country where media and journalists increasingly are under assault.
Egyptian journalists are struggling to work as the government imposes new restrictions on their activities–underscored by arrests, convictions and imprisonment. The Egyptian Organization for Human Rights reported 85 criminal cases against the media from 2004 to 2006.
It is in this context that Abbas launched his "Egyptian Awareness" blog () in 2004. Abbas has broken news on subjects generally avoided by local media: protests, corruption, and police brutality. His vivid first-hand reports, videos and photographs have attracted thousands of viewers and the attention of mainstream news outlets.
Abbas says he uses a video camera and colloquial Egyptian Arabic to reach a younger generation that might find traditional news delivered in classical Arabic boring. The video camera has been his most powerful tool, he says. "I focused on images and video footage so that no one can discredit my work."
Among his blogging highlights: a video showing Egyptian police cracking down on demonstrators, a video of soldiers tearing down an Egyptian flag, and a video showing large groups of young men attacking women in Cairo last year, posted after officials denied there had been any violence. Because of Abbas' postings, some police officers in the videos went to jail while others await trial.
Abbas studied English language and literature at Ain Shams University in Cairo. He has worked as a journalist and photographer for Al Dustour (The Constitution), an independent weekly newspaper in Cairo, and as Middle East correspondent for Germany's DPA news agency. He spent a month in Washington this year as an intern at Slate.com, thanks to a Freedom House fellowship.
With limited training, Abbas has reached out to fellow bloggers; he teaches them techniques and holds seminars to support Egypt's fragile, network of citizen journalists. He has been arrested, beaten by thugs, and faces persistent government harassment and intimidation. Writing in The Washington Post this year, Abbas said, "I am an Egyptian blogger. And the Mubarak regime is out to get me and others like me." Still, he remains undaunted. "Nothing will stop me," he says. "Egyptian people deserve to know the truth."
About the Knight International Journalism Award
The Knight International Journalism Award recognizes media professionals in developing countries who have taken bold steps to keep citizens informed despite great obstacles. Past recipients include pioneering correspondents who have exposed government corruption, war crimes and other important stories. The award also has honored crusading publishers determined to maintain their independence despite enormous political and financial pressures.
Recipients of the Knight International Journalism Award epitomize the journalistic ideals fostered by the James L. and John S. Knight Foundation and the International Center for Journalists. Honorees are nominated by Knight International Journalism Fellows, other experts in the field and ICFJ staff. A five-member jury makes the final selection. This year's jury included two former Knight Fellows--Roger Atwood of the Washington Office on Latin America and John Pancake of the Washington Post—as well as Patricia Weems Gaston of the Washington Post, Owen Ullmann of USA Today, and ICFJ President Joyce Barnathan.