With the number of blogs and YouTube videos floating on the Internet today, the citizen journalists in this program are unique in having a home at Malayskiakini.com, Malaysia's most popular and most-read news Web site. Malaysiakini has partnered with ICFJ in executing this training program from the very beginning, overseeing the CJs and featuring some of the best videos on malaysiakini.tv, Malaysiakini's video news Web site. The CJ program has been so successful that Malaysiakini has begun to integrate the CJ program into its main Web site more fully and CJs and Malaysiakini news staff collaborate on stories. The citizen journalists' videos also can be viewed on their own Web page, cj.my.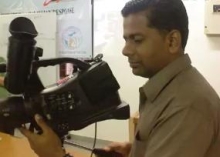 When asked about their close working relationship with Malaysiakini, citizen journalists were enthusiastic about the partnership. Malaysiakini video editor Shufiyan Shukur explained how linking with the Web site has increased CJs' videos' viewership by the thousands. "We have 100,000 to 200,000 readers every day (on Malaysiakini) if it's a major issue, that readership goes up to a million. So when we put the CJ videos on to Malaysiakini.com, the viewers will just shoot up from 500 to maybe 4 or 5,000 and beyond that."
The Malayskiakini journalists' attitude towards the CJs got off to a rockier start, but now, says program director Maran Perianen, "they are able to work together." "Like recently," he said, "a new journalist, quite a senior journalist…joined us in the Northern region, and she initially made me get the contacts of the CJs because she wants to work with them."
The integration with Malaysiakini has also given citizen journalists extra cachet with interview subjects. Says participant Rajeswari Raman, "When I go for a shooting and they say, "where do you come from?"…and then I say 'oh, we are partnered with Malaysiakini'…the tag is really very valuable, it makes me popular. And now they keep on calling…'Hey, Rajes, you're coming? You're coming?" And whenever I come it's, "Malaysiakini is coming! Malaysiakini is coming!"…They're giving us first priority, you see, because they know the news is going to come out."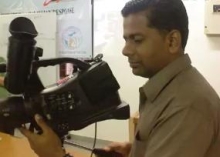 But being linked to a legitimate news organization raises new issues of responsible reporting for the CJs. CJ Christine Chan acknowledges that the CJs already take their role very seriously. "There is more responsibility," she noted, "more than just blogging or someone who writes whatever they want."
But still, CJs don't have as many restrictions as professional journalists. As a result, described Perianen, there is some editorial oversight on sensitive issues—"we have our chief editor come in, watch the video," sometimes telling a CJ to "go and talk to these people" or "get these facts." This editorial eye has helped the CJs become better journalists.
But the CJs haven't been the only ones to benefit from their relationship with Malaysiakini—Malaysiakini itself has gained new voices and new leads for stories that Malaysiakini staff can follow up on. "Our editorial really appreciates the citizen journalists because sometimes there are so many breaking stories that come through a CJ," says Perianen.
Shukur agrees. "When we look at the stories our CJs have given us, our editorial will say, 'Ok, this is very interesting, this is something that we can develop further,' then they will assign a reporter onto that particular story, so it's a follow-up on the CJ video…this will be turned into text stories, and more people will be reading it and be exposed to the kind of work that our CJs have done."