Sharmeen Obaid-Chinoy Accepts the Knight International Journalism Award
In the summer of 1998, I spent several weeks in a library in Karachi where Arnold Zeitlin, a Knight Fellow sent by ICFJ, taught a group of us the art of journalism. What questions to ask, how to frame them, and how to write the investigative pieces that would start difficult conversations. That was my first formal training in journalism, so for me this honor today is, indeed, very special.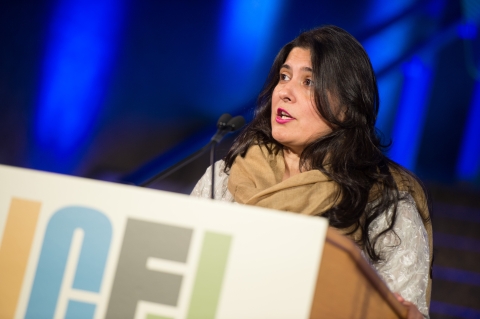 Soon after my training I began working on serious investigative print stories. I went undercover to expose teenage gangs that were operating in my home city. They had allowed me to infilterate and I had access to their inner sanctum.
The story was published on the morning of Eid, a Muslim holiday. My father had gone out in the morning, and returned home within a few minutes. I heard his voice bellowing through the entire house. Raising 5 teenage daughters is not an easy feat. My mother gave me a look that meant, I was in trouble…
I remember running down the stairs and my father asking me what I had done… Since I was forever doing something or the other, I racked my brains and ran through the list of things in my head…
My house, the lane I lived in, and my neighborhood had been spray painted with unspeakable profanities, all addressed at me. The teenage boys I had written an exposé on wanted to teach me a lesson. Growing up in a conservative society, the best way to silence someone is to shame them. By spray painting my name and my family's name they wanted to send a clear signal, a warning. Hundreds of people who drove through those streets read the warnings and the language associated with it.
I thought my career was over that day. We are taught from a young age that we must not shame our families. It is an inherent code. But my father sent me a very clear message that day, if I spoke the truth he would stand with me and so would the world, before whitewashing the walls with his own hands.
This is why I am standing here in front of you today. I became a journalist and a filmmaker to expose the truth, which is not always easy. Today, the spray painting has been replaced by abuse and threats online. I now wear the names that I am called as a badge of honor.
In 2010, I walked into a two room house on the outskirts of the capital city of Islamabad and met Zakia. For the first few minutes, I kept my gaze fixed to the ground. Her husband had thrown acid on her face, severly disfiguring her. She had lost an eye, part of her nose, and her skin had melted. She now lived from one surgery to the next, in the hope that a surgeon would make her whole again. I had to find courage within myself to look at her in order to tell her story. Despite the disfigurement, Zakia was smiling and playing with her daughter. The courage she displayed in that moment is why many of us tell these stories. The determination of the people whose stories we bring to the world is what makes our work worthwhile.
The different worlds we slip in and out of, the people we meet, the intensity we experience, is nothing compared to those people who live in those circumstances, those who live in the face of constant adversity. We are merely the conduits who tell their stories and sometimes, if we are very lucky, we can have an impact on their lives, and on the lives of others. I choose to be a journalist because I am inspired by the men and women whose stories I have the privilege of telling.
In 2012, I set up a production company in Pakistan. We are working to nurture and train the next generation of truth-seekers in my country. We know that it is not going to be easy. Journalists are routinely killed, kidnapped or threatened. Ours is now a dangerous profession. We know and accept that. But the wins keep us going, and we choose to focus on them.
In 2011 Zakia fought her case and sent her husband to jail for throwing acid on her face. That was a win.
And after our film, "Saving Face," was released a local government ensured that survivors of acid violence would get speedy justice through special courts, encouraging more women to fight cases. That was another win.
In 2016, our film "A Girl in the River: The Price of Forgiveness" influenced the passage of a law about honor killings in my country. That was a win.
Tonight I thank the ICFJ for this award and this honor, and I dedicate this to my parents, who have always made me feel that being born a woman was my greatest advantage and that truth always stands tall.
Thank you.