Soraya Sarhaddi Nelson Accepts the Excellence in International Reporting Award
Thank you. It's a great honor to be with you tonight, and to receive this award from such a wonderful organization that recognizes the immeasurable value of international reporting.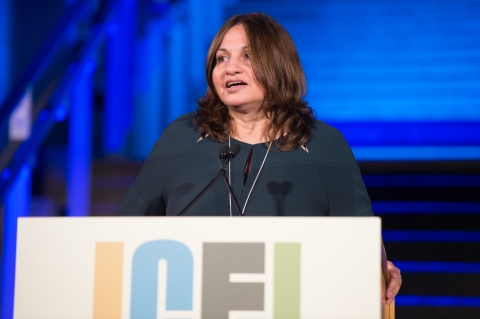 There are many people I want to acknowledge, without whom I couldn't do what I do. There's my husband, Erik, and our son, Stefan, who support me unconditionally even when the assignments are dangerous, which they often are.
Erik has joined me in some of those dangerous places, like the Gaza Strip, where he was stoned and mugged by a large group of angry Palestinian teens, and later in Afghanistan where he survived a 22-hour Taliban attack. I'm guessing he's probably happier now that we're in Berlin.
I'd also like to thank my long-time Afghanistan and Middle East Editor, Doug Roberts, who inspired me to delve deep and helped me craft many of my best stories. NPR is unique in that most of its war correspondents are women, and before he retired, many of us had the privilege to work with Doug — or Uncle as we called him.
I also salute my other NPR colleagues and editors who are here tonight: Edith Chapin, David Sweeney, Gerry Holmes, Will Dobson, Didi Schanche and Kevin Beesley, all of them deeply devoted to excellence in international reporting. You provide so much encouragement and opportunity for me and the rest of NPR's international team to shine, and on behalf of all of us, I thank you.
But this award really belongs to my many friends and colleagues who died in pursuit of stories that are so important to our understanding of the world. Like NPR's David Gilkey, and Zabi Tamanna. And the New York Times' Anthony Shadid, and the Boston Globe's Elizabeth Neuffer.
We miss you so much and won't forget your sacrifice.
They would be happy to hear that so many of you still care about what's happening outside our borders, even if "America First" once again echoes in the halls of the nation's capital.
At a time when our world is becoming ever smaller through globalization and technology, it's vital to pry ourselves from our comfort zones to explore and understand other nations and people.
I've spent 16 years overseas trying to help readers and listeners do that, sharing what I learned via NPR, the Los Angeles Times and the former Knight Ridder. That last news outlet was always tough to explain to people living overseas, and even in Tehran, would inevitably lead to the question: "You're on the TV show with the talking car?"
Yes, I see some of you remember Knight Rider and David Hasselhoff, and the show was available in Iran, despite the Islamic Republic's efforts to block entertainment from the "Great Satan."
My fascination with all things international is as strong today as when I started. I remain in absolute awe of people's humanity under the most difficult of circumstances. Like the grandmother I met last spring, living alone in a cottage in eastern Ukraine. She lived on the front line, with no running water or power. She risked gunfire and shelling every day to grow and harvest potatoes to survive, as well as daffodils to brighten up her home and to give to a stranger – me – this past Easter Sunday.
Or the 25-year-old illiterate Afghan woman who was forcibly married at 16 to a man in Pakistan who brutally raped her every night. When I first met Hanifa in Kabul two years ago, she was so broken she could hardly speak without crying. Her healing came at a Kabul animal shelter where she volunteered, and by rescuing abused puppies, one of which now lives in California.
Hanifa has also become one of her country's best mountain climbers, and last month completed her first marathon. She's on Facebook, and is learning to read and write, not just in Dari but English.
Most international news isn't so uplifting, much like the political trends I've been reporting on. In Europe, voters in more and more countries appear to be forgetting the lessons of the last century as they turn to nationalism and xenophobia to combat real and imagined economic and societal woes.
Even in my base of Berlin, a left-leaning, artsy mecca, Muslim girls wearing headscarves and others who don't fit the "German" cultural norm are verbally harassed or worse. Such overt, racist behavior would have been unthinkable two years ago and is encouraged by right-wing populist politicians who, for the first time in a half-century, are sitting in the German parliament.
There's a lot happening internationally that Americans should be paying attention to, be it the growing number of authoritarian leaders stripping away democracy or developing nuclear arsenals; or terrorism, ethnic cleansing and distant warfare that's on the rise but rarely makes headlines, and the millions of refugees — many of them children — who will continue to flee toward the West, even as laws are passed and walls are built to stop them.
In an ever-more-interdependent world, these events affect us. They have an impact on the way we work, how we interact with our neighbors in our internationally diverse nation, as well as how safe we feel at home and on our streets.
Even so, the amount of time and space dedicated to international coverage is shrinking as America turns inward. I encourage you, news managers who are gathered here tonight, to resist that trend.
Thank you.