India: Pioneering Innovation for Health News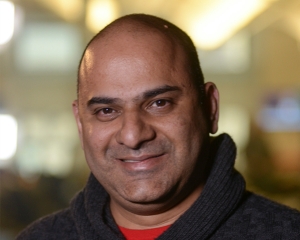 ICFJ Knight Fellow H R Venkatesh helped top Indian newsrooms improve their coverage of critical health and development issues. He provided strategic and editorial support that boosted our media partners' ability to develop in-depth projects that engage citizens and policymakers around these topics. He was part of a team of ICFJ Knight Fellows working together to achieve this goal. 
Throughout his Fellowship, Venkatesh built up core knowledge and skills for journalists at our newspartners. He ravamped a training curriculum developed by ICFJ Knight Fellow Nasr ul Hadi in 2015 to equip reporters and editors with the latest data and multimedia skills to bolster their storytelling. Venkatesh and ICFJ's team of Fellows in India have used this curriculum in six newsrooms. 
Venkatesh's Fellowship also focused on tracking the rise of fake news and other forms of disinformation and misinformation in the lead up to the 2019 Indian general elections. Venkatesh regularly spoke about fake news at journalism conferences and events and has blogged about the subject for the International Journalists' Network (IJNet). 
Venkatesh was a lead organizer for Hacks/Hackers India's local chapters, part of a global community working at the intersection of news and technology. He organized workshops and meetups on a variety of health, development and media-related issues. In 2017, he started a network for health journalists in India. The goal: foster more reporting collaboration and the creation of shared resources for producing quality health journalism. 
Venkatesh was previously a Tow-Knight Fellow at the Center for Entrepreneurial Journalism at the City University of New York. There, he developed his startup, NetaData, which provides reporting and commentary addressing political polarization in India. He served as a founding editor of The Quint and was Change.org India's director of communications. He was a senior anchor for nine years at CNN-IBN, where he also managed the news desk and reported for the National Bureau. He was a 2009 Shell Centenary Chevening Scholar at the University of Oxford and earned a master's degree in contemporary Indian studies.