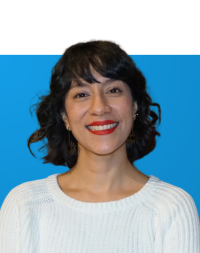 While pursuing my master's degree in strategic design and innovation I realized design could be used for social good, transforming cultures and proposing innovative solutions to complex issues in the world. Upon graduating, my many years of experience as a product leader in technology and digital design combined with my new passion for social design led me to find in journalism a space to create impact and change in my community. 
I am a program consultant for Leap, ICFJ's news innovation lab. I facilitate, create and design the creative and innovation methodologies used in the Leap Solutions Challenge, a 10-week program in which journalists explore, design and develop products, and learn innovation processes. 
My background: In my early years I worked as a digital designer and full-stack developer. I transitioned into design and innovation work starting with my involvement in the mobile innovation strategy design for Mexico's City Innovation Lab. I also worked with ITDP Mexico creating participatory platforms for urban sustainability and mobility. I've worked on journalism projects with NGOs in Central and South America, including Fundación Gabo, Fundación IDEA, and CONNECTAS. 
I used to be an ambassador for Chicas Poderosas Mexico, a global community that empowers women in media. In this role, I led and hosted four international hackathons with more than 700 participants combined. They focused on feminist journalism, media innovation, and new approaches to storytelling. I was a Dow Jones Chicas Poderosas Fellow in 2016 at The Guardian Mobile Innovation Lab in New York City. In 2017 I was a Nieman Visiting Fellow at Harvard University where I worked on a research project about forced disappearances in Mexico. 
Ask me about: Social design, innovation, user research, user experience design, user interface design, and training workshops for design and innovation
Contact me: sbarron@icfj.org