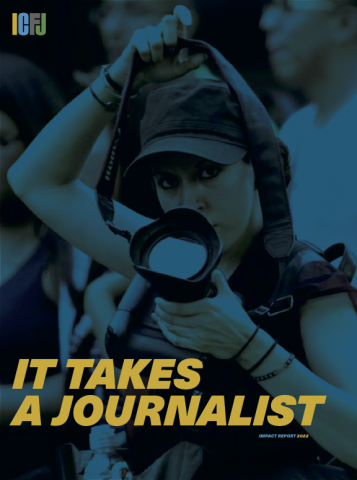 The thousands of journalists in ICFJ's global network work to ensure the truth prevails, producing news reports that fight disinformation and spur positive change. At ICFJ, we serve our robust network by helping them better cover the most critical issues of today, innovate to more deeply connect with audiences, and build news organizations that thrive. Below are some highlights from our 2022 impact. Read the full report for more.
 
Our global network
---
24,000
program participants
In 2022, we served 24,000 journalists in 119 countries with training, mentoring, fellowships or financial support. In addition, our active network of journalists, which includes program participants from the past five years, grew to more than 160,000 members. Hear from the journalists in our network below.
 
Our programs
---
692
total grants given to journalists & newsrooms
---
4,740
hours of training & mentorship
---
97%
of participants surveyed gained skills & knowledge
Stories produced and awards received
Journalists produced more than 350 stories directly through our programs in 2022, reaching audiences in 38 countries. They won more than 20 awards for their work.
Societal impacts and tools created
We strive to foster journalism that makes a positive impact. In 2022, we tracked 18 societal impacts from ICFJ-supported investigations, from changes to government policies and the ouster of corrupt officials to outcry from civil society.
In 2022, we also supported the creation of cutting-edge tools – including from our ICFJ Knight Fellow Sérgio Spagnuolo. His social media listening platforms helped news outlets and others analyze political discourse to identify disinformation campaigns in elections in the U.S. and Brazil, and elsewhere. Check out "Election SOS" pulse.
See our network in action
Explore the map below by clicking on one of the yellow circles for 2022 highlights, a sampling of impacts from across the world.
To learn more about our work, explore ICFJ's programs, research and IJNet, a one-of-a-kind resource for journalists offering tools, tips and opportunities in eight languages. Also see our latest impact report.