ICFJ has spent years supporting, assisting and developing a number of journalism networks around the world. We are proud to be the premier journalism "network of networks." The following are ICFJ partner networks and the regions where their journalists work: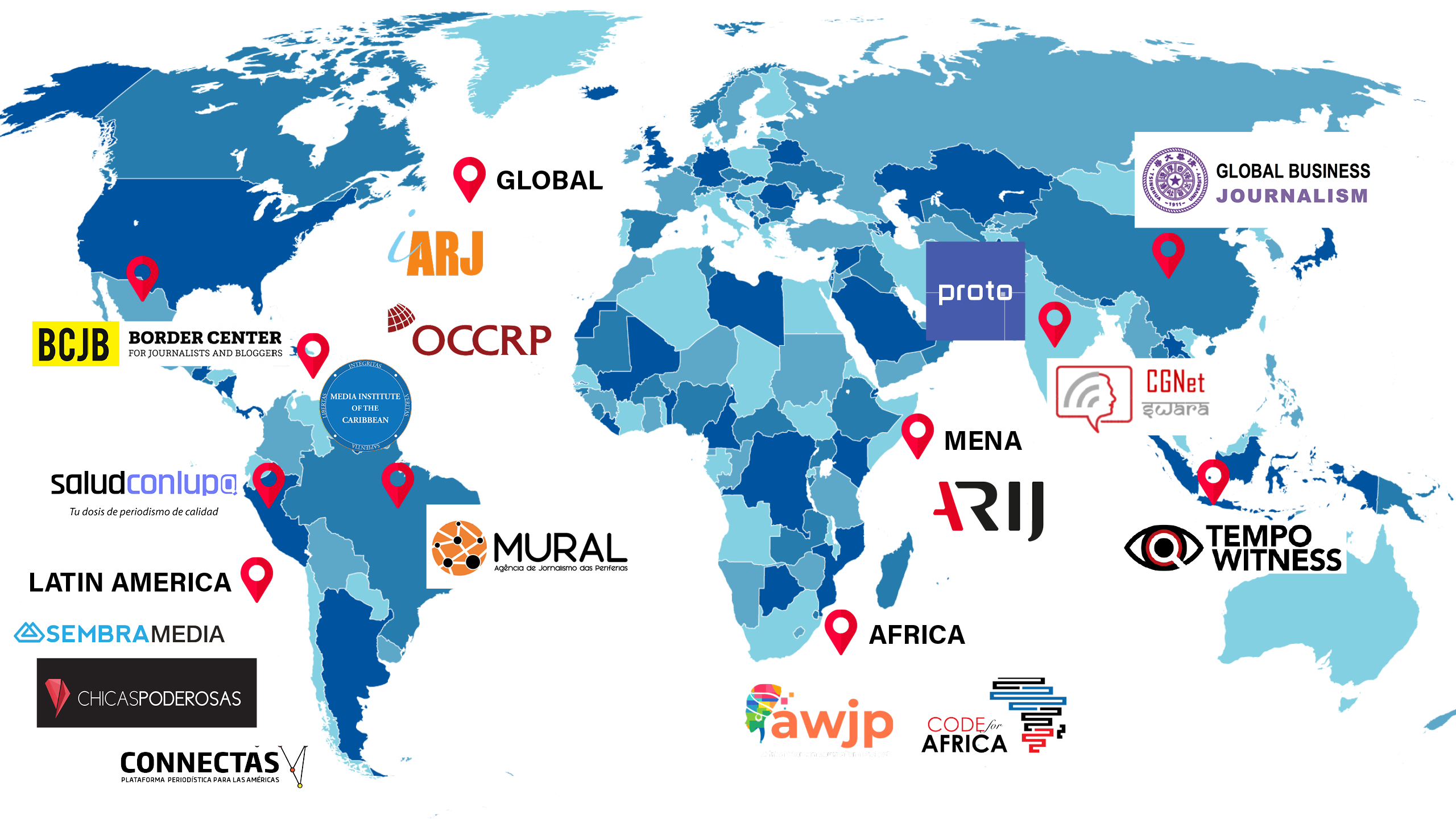 Global
In early 2012, ICFJ launched the world's first global association of journalists who cover religion issues. The International Association of Religion Journalists (IARJ) aims to offer collegial forums for dialogue and cooperation, online, in-person training, and a wealth of resources and data to promote better coverage of these issues. The IARJ is partnering with the Association of Religion Data Archives (ARDA). 
Founded by Drew Sullivan and ICFJ Knight Fellow Paul Radu, the Organized Crime and Corruption Reporting Project (OCCRP) is an investigative reporting platform for a worldwide network of independent media centers and journalists, and is reinventing investigative journalism as a public good. In the face of rising costs and growing threats to independent media, OCCRP provides media outlets and journalists with a range of critical resources and tools including digital and physical security and allows those covering the most sensitive topics to work in teams with trusted editors. ICFJ has supported OCCRP as a partner on grants from the Open Society Foundations and the U.S. Agency for International Development that focus on investigative reporting, technology development, and regional capacity building. Several ICFJ Knight International Journalism Award winners have come from the OCCRP Network, including Paul Radu, Roman Anin, Miranda Patrucić, Stevan Dojčinović, and Pavla Holcová.
Africa
In response to the COVID-19 pandemic, ICFJ Knight Fellow Catherine Gicheru launched the Africa Women Journalism Project (AWJP). It brings together female journalists and data analysts to produce data-driven coverage of underreported health, gender and economic issues. Stories have focused on a range of vulnerable groups from school children to street vendors, and on medical services available to victims of the disease. They have shed light on marginalized groups and communities, who suffer the worst impacts of the pandemic.
ICFJ Knight Fellow and digital media strategist Justin Arenstein focused on transforming Africa's media landscape through the introduction of new tools and technologies to improve coverage of issues critical to the lives of Africans. He did this through Code for Africa, the continent's open data and civic technology pioneer. Established by Arenstein with support from ICFJ, Code for Africa helps media adopt new forms of storytelling -- from interactive maps to drones -- and better engage audiences in the news.
Central, Latin America and the Caribbean
In 2010, Vagner de Alencar was one of 60 young people living in the favelas of São Paulo who took a journalism course offered by ICFJ Knight Fellow Bruno Garcez. He and the other trainees, led by Izabela Moi, at the time an editor at Folha, became the first 30 local correspondents for a news blog that covered the massive city's underprivileged neighborhoods (around 80% of the actual territory) — largely unnoticed by the mainstream media unless for the violence or dramatic stories. More than10 years later, Alencar is one of the directors of Agência Mural, overseeing almost 80 local correspondents in dozens of neighborhoods in the metropolitan area. Mural has grown from a fledgling blog to a well-respected non-profit news organization, one of the first in the country to be admitted under the national chapter of The Trust News project. The goal of Agência Mural is twofold: to reduce the information gap about those regions and their residents and, in doing so, to counter the negative stereotypes people have about those communities.
The Border Center for Journalists and Bloggers is a nonprofit organization based in Edinburg, Texas, dedicated to improving quality journalism, promoting safer practices, and boosting innovation and cooperation across borders. Founded by ICFJ Knight Fellow Jorge Luis Sierra, its flagship program is the Mexico Border Investigative Reporting Hub, a binational network of journalists at both sides of the border who are investigating corruption and human rights abuses through the use of digital tools, data mining and visualization tools, as well as multimedia technologies. In partnership with the BCJB, ICFJ is offering a new program for U.S.-based reporters, focused on reporting on issues that span the U.S.-Mexico border, including human rights violations, immigration, corruption and drug trafficking.
Chicas Poderosas is a global community that ignites change by inspiring and developing women in media and creating opportunities for all voices to be heard. Mariana Santos founded the organization as an ICFJ Knight Fellow in 2013, to address the gender gap in newsrooms especially in digital journalism in Latin America. As a JSK Fellow at Stanford University between 2014 and 2015, Santos pushed the organization to the next level. The aim of Chicas Poderosas since its creation has been to promote female leadership and gender equality in media.
CONNECTAS is a non-profit platform and a hub for investigative journalism in the Americas, based in Bogotá, Colombia. It is committed to journalistic collaboration for the production of in-depth stories that help expose abuses of power, even in societies with limitations to press freedom and individual liberties, and analysis that allows for improved understanding of the hemisphere. Its mission is to promote the exchange of information on key issues in the region, creating a vibrant and active community for its journalism members and conditions catalyzing them to do their best work where their individual brilliance is part of something greater. ICFJ has provided support to expand CONNECTAS' regional work, including the creation of fellowships and launching the Investigative Reporting Initiative in the Americas to foster cross-border collaborations and enhance network building.
The Media Institute of the Caribbean (MIC) empowers Caribbean journalists by developing their journalistic techniques with an emphasis on investigative journalism. MIC works to improve the standards of journalism throughout the Caribbean and provide a safe place for journalists to discuss important issues. MIC has built a strong network of Caribbean journalists and continues to facilitate media incubators, innovators and entrepreneurs. 
ICFJ Knight Fellow Fabiola Torres spearheads a project that deepens news coverage of health, corruption and governance across Latin America. She steers cross-border teams of journalists who fight misinformation, expose wrongdoing and produce investigative stories that consistently lead to improvements in policies and people's lives. A year before COVID-19 struck, Torres created the health reporting platform Salud con Lupa ("health under a magnifying glass"), the region's first news site devoted exclusively to health reporting.
ICFJ Knight Fellow Janine Warner is supporting the sustainability of Spanish-language digital news startups across Latin America, Spain and the U.S. to promote a greater diversity of voices in online news. Warner is co-founder and executive director of SembraMedia, a nonprofit organization whose mission is to help digital media entrepreneurs learn business and technical skills, and draw on the expertise of others who are facing similar challenges. ICFJ and Sembra Media collaborated on a three-year initiative called Velocidad, an accelerator program that invested funding and expert consulting for 10 digital news startups in Latin America.
Middle East
Arab Reporters for Investigative Journalism (ARIJ) is the first and leading media organization in the MENA region dedicated to promoting investigative journalism across the Arab world. Based in Amman, ARIJ was founded in 2005 with the aim of supporting independent, quality and professional journalism, by offering training, media coaching, mentoring, funding and networking opportunities with local and international media outlets. ARIJ aims to support every Arab journalist with the ambition to advance in the field of Investigative Journalism. In collaboration with ARIJ, Cairo-based Amr Eleraqi, a former ICFJ Knight Fellow, recently led  a training and mentorship program that expanded  data-generated storytelling in the MENA region. 
Asia
CGNet Swara is a voice-based portal, freely accessible via mobile phone, that allows anyone to report and listen to stories of local interest in parts of central India. Reported stories are moderated by journalists and become available for playback through a website and social media, over the phone and using the Bultoo Radio application for collecting and disseminating information in media dark zones. CGNet Swara was launched by ICFJ Knight Fellow Shubhranshu Choudhary.
As ICFJ's lead partner for South Asia, Delhi-based PROTO conducts research, learning and community programs for journalists and newsrooms in the region. Since 2015, this group of journalism innovators, founded and led by ICFJ Knight Fellow Nasr ul Hadi, has incubated teams, workflows and other experiments that maximized resources, collaboration and entrepreneurship in host newsrooms. This work has helped journalists produce more interactive coverage on health, gender and development issues.
TempoWitness is a platform for citizen journalism established by ICFJ Knight Fellow Harry Surjadi, with Wahyu Dhyatmika and Yosep Suprayogi, editors at Tempo Media Group in Indonesia. The citizen journalism model relies on the TempoWitness app which citizens can download to their phone to record video, audio, and photos and send them to TempoWitness, even in areas where Internet connectivity is unstable. TempoWitness's team also provides training for citizen reporters before they can send reports to TempoWitness. TempoWitness empowers citizens to be stakeholders in setting the local and national agenda for media by covering stories that are important to their communities, where they can become watchdogs, and hold those in power accountable, seek and convey truth, and become the fourth pillar of democracy. Importantly, the app connects them to professional journalists and editors to report on public interest stories that matter, while protecting citizen reporters under Indonesian press law.
The Global Business Journalism (GBJ) Program at Tsinghua University in Beijing is an elite master's degree program featuring outstanding journalism students from China and around the world. The GBJ program, a partnership between ICFJ, Tsinghua University and Bloomberg, is the most prestigious English-language business journalism program in China.  This groundbreaking program at China's top school has produced hundreds of master's degree recipients who have brought a new level of professionalism, business expertise and writing skills to coverage of economic and financial issues in China, the world's second-largest economy.