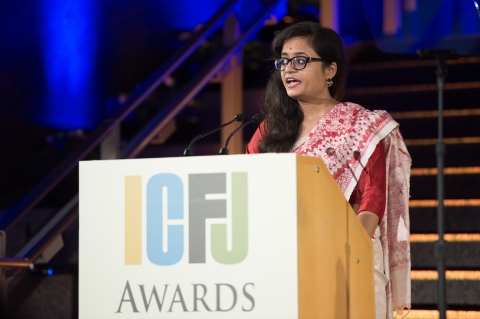 Two groundbreaking women journalists, in Washington to accept a top international media award, have criticized the treatment of journalists in their countries and the limited space for expressing views at odds with the government.
Investigative reporter Priyanka Dubey of India and Cuban blogger Yoani Sánchez said these are tough times for journalists in the two countries despite their dramatically different political systems – with Cuba a restrictive communist island and India known as the world's largest democracy.
Dubey, whose exhaustive reports have exposed human trafficking, gang rapes and forced child labor; and Sánchez, a media pioneer who uses the Internet to promote independent voices, were honored by the International Center for Journalists (ICFJ) with the prestigious Knight International Journalism Award.
In accepting the award, both journalists spoke of the harsh conditions under which journalists must work to deliver news and information to the public.
"These are indeed dark times in India," said Dubey, noting the rise of "Hindu fascist forces in the country…. We are witnessing ongoing attacks on journalists and human rights activists, and shocking new levels of moral repression against women are creeping into media reportage."
Dubey emphasized that "only independent journalistic voices with a spine and a sense of fearless moral integrity can help us restore constitutional values and the type of secular, democratic India in which I have always believed."
Sánchez, who has been jailed and beaten for her work, said the Cuban government has for many decades treated free expression and independent news reporting as "treason."
"Authoritarian regimes throughout history have exercised strict control of the media and a high disregard for freedom of information," she said. "For these systems, a journalist is an uncomfortable individual who must be tamed, silenced, or eliminated."
Sánchez has used the Internet to circumvent censorship and poor communications in Cuba under the Castro regimes. In 2007, she began producing a blog called Generation Y, which chronicles the challenges of daily life in the island nation, including food shortages, long lines and limited job opportunities. The blog, which is carried in The Huffington Post, attracts a global audience and has been translated into 17 languages.
Sánchez now has a half-million Twitter followers around the world, and she is leading a generation of independent voices in Cuba. She founded the country's first independent news outlet, a daily online publication where she supervises a dozen journalists who report on politics, economics and culture.
"These journalists represent the best that journalism can offer," said ICFJ President Joyce Barnathan. "They risk life and safety to hold up a mirror to their societies, expose what is wrong, and prod the powerful to make changes."
The Knight Award, which recognizes excellent reporting that makes a difference in the lives of people around the world, was presented at ICFJ's annual Awards Dinner in Washington, D.C., on Nov. 10.
Watch Sánchez's remarks in Spanish, read her remarks in English or watch her tribute video.
Watch Dubey's remarks or her tribute video.