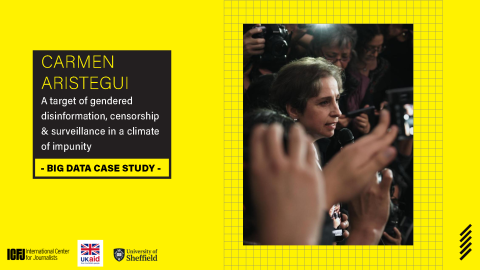 Killing journalists with impunity is the norm in Mexico – the deadliest place in the world to practice journalism outside of an active war zone. In a country which also experiences terrible rates of femicide, it is unsurprising that gender-based online violence is also prevalent. It works as an additional tool for entrenching and extending repression of female journalists. And multi-award-winning Mexican investigative reporter Carmen Aristegui Flores is a prime target.

A prominent independent journalistic voice in the Americas, Aristegui also enjoys significant international recognition. She is a highly visible female journalist in a patriarchal country which sees a media worker attacked every 13 hours.

This Big Data Case Study, published to mark the International Day to End Impunity for Crimes Against Journalists, examines the campaign of online violence against Carmen Aristegui on the platform formally known as Twitter. In a collaboration between the International Center for Journalists'  research division and University of Sheffield computer scientists, we analyzed 2.3 million tweets in the context of her lived experience of the abuse, her journalistic practice, and the socio-cultural and political conditions in which the abuse occurs.

The study aims to provide a solid evidence base to assess the online violence against Aristegui, synthesizing her self-reported experience with hard data, and situating it within a timeline of events spanning two decades which highlights escalation flashpoints. It is published as part of an ongoing series of similar case studies involving emblematic targets of gendered online violence in eight countries.

Smear the Journalist, Kill the Story

Aristegui experiences online violence which seeks to chill and discredit her hard-hitting investigative journalism and critical commentary on political power abuses in Mexico, while simultaneously undermining and humiliating her at a personal level. Her agenda-setting daily Aristegui Noticias (Aristegui News) newscast and prime-time CNN en Español talk show have led to reprisals, including targeted surveillance and gendered disinformation campaigns fueled by successive Mexican governments. Current President Andrés Manuel López Obrador has Aristegui frequently in his sights, triggering spikes in online violence toward her.

According to our research, spikes in threats, harassment and abuse toward Carmen Aristegui – both online and offline – also follow each of the major investigative stories she covers. These investigations have made headlines globally. They include: an exposé on a prostitution ring run by members of the Institutional Revolutionary Party (PRI); revelations of child sexual abuse among Mexican clergy; the infamous 'White House of Enrique Peña Nieto' presidential real estate corruption scandal, which led to her being fired multiple times and her radio show being censored for two years; and, most recently, allegations of nepotism involving the current Mexican president's son.

Digital security attacks are perhaps the most notable type of online violence Aristegui experiences. She is one of the first known cases of a journalist being subjected to illegal surveillance via the notorious spyware Pegasus developed by the NSO Group, an Israeli cyberarms manufacturer. Her teenage son was a victim of the spyware too. Aristegui was also doxxed and the digital news outlet she founded, Aristegui Noticias, has been a target of cyber attacks.

But she has also been exposed to sustained sexist, misogynistic and homophobic abuse and threats online; evidently orchestrated trolling campaigns involving threatening memes and appalling gendered disinformation. In one impunity-evoking incident, she was even 'assassinated' on social media.

There have been offline attacks too – including a raid on her newsroom and physical posters targeting her son, along with legal harassment.

KEY FINDINGS

1. Over half (56%) of the Twitter-based abuse directed at Aristegui can be categorized as personal abuse designed to dehumanize her, of which:
• 14% was sexist, misogynistic or sexually explicit;
• 2% was homophobic;
• 1% was racist.

2. Approximately 43% of all abuse we detected can be classified as professional credibility-based attacks – designed to undermine Aristegui's investigative reporting and critical commentary. This represents a very high rate of abuse designed to damage the professional reputation of a target.

3. The online harassment and abuse detected against Carmen Aristegui in our dataset is clearly misogynistic. Approximately 8% of all abuse in our dataset could be categorized as sexist, misogynistic or sexually explicit abuse. The main tactics used to discredit her focus on her appearance, her sexuality and sexual partners, and the paternity of her son.

4. Spikes in online violence toward Carmen Aristegui evident in our Twitter dataset correlate with attacks on the journalist launched by the current Mexican president in his daily press conferences. In November 2021, one such pile-on led to intense online violence against Aristegui, which continued for a week.

5. A clear objective of the online violence campaigns, triggered in part by the Mexican president's attacks, is to censor Aristegui. One of the most prevalent hashtags in our dataset is #ApagaAristegui (#ShutDownAristegui or #TurnOffAristegui - i.e., censor or turn off her program).

6. Surges in online violence also follow publication of Aristegui's investigative journalism focused on political corruption, her international recognition (e.g., professional awards), and promotion of her daily radio program on social media.

7. The tweets published by @AristeguiOnline are dwarfed by the obviously abusive tweets which are detected at a rate of almost two to one. This is a significantly higher rate than that experienced by most of our other Big Data Case Study subjects.

8. The online violence that Aristegui experiences occurs in a climate of extreme risk. Mexico is consistently the deadliest country in the world to practice journalism outside of a warzone, and there is a real risk that online threats could escalate to offline attacks.

9. A constant chilling phrase appearing in the tweets is "Por eso los matan" (Translation: "That's why they get killed") – justifying violence against the press and suggesting impunity for crimes against journalists like Aristegui in a country with a 98% impunity rate.

10. While the horrific levels of murder and physical violence against Mexican journalists overshadow concern about online violence, the nexus is clear in Aristegui's case. It reveals a vicious cycle of physical realm attacks (including break-ins and muggings) and digital attacks which expose her and those close to her to increased risk.

11. The online violence experienced by Aristegui radiates to her family and colleagues. For example, she was one of the first journalists in the world to be targeted by the notorious Pegasus spyware and the first known case in which a target's child was also surveilled.

12. There is clear evidence of orchestrated online violence in Aristegui's case. For example, the most prolifically abusive Twitter accounts targeting Aristegui represent a mixture of those with a huge number of followers whose tweets will get widely disseminated very quickly, and others who have very few followers but who tweet voraciously, suggesting bot-like or at least deliberately coordinated abusive behavior.

13. Aristegui is a target of apparently coordinated disinformation campaigns which are frequently highly gendered and designed to damage her professional reputation and her moral standing in a conservative culture. These have included viral reports of her 'assassination' on Twitter and false assertions about romantic relationships. She is also routinely falsely accused of being corrupt, a conservative stooge, a prostitute, a liar and a 'sell out.'

14. Aristegui demonstrates a dogged refusal to be silenced in the face of overt censorship and direct threats.

15. Despite the torrential online violence Aristegui experiences, she also benefits from substantial support among her audiences – expressed both online and offline – who have repeatedly rallied in her defense.

*This is a pseudonym chosen to protect the Mexico-based researcher from reprisals in a high- risk context.

Disclaimer: Funding for research underpinning this case study was received from the UK Foreign, Commonwealth and Development Office (FCDO) as part of a broader project investigating the development of an Online Violence Alert and Response System. However, the research represents the independent work and expertise of the researchers, and the views and opinions expressed are those of the authors. It does not represent the policy or views of the organization providing funding.