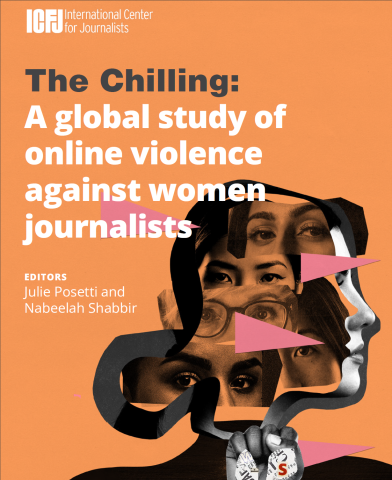 With the support of UNESCO, the International Center for Journalists (ICFJ) has published a groundbreaking, book-length global study on online violence against women journalists, documenting alarming trends and offering solutions to this pernicious problem.

The Chilling: A global study of online violence against women journalists is the most geographically, linguistically and ethnically diverse research ever published on the theme. Publication of the 300-page book concludes a three-year research project originally commissioned by UNESCO in 2019.
 
Edited by ICFJ's Dr. Julie Posetti and Nabeelah Shabbir, the study draws on the testimonies of more than 850 international women journalists who were surveyed and interviewed by a team of international researchers led by ICFJ's research division.
 
As part of the project, ICFJ and UNESCO have published the following resources:
The Chilling is a vital, at times gut-wrenching call to action - one that we cannot afford to ignore. -- Nobel Peace Prize Laureate Maria Ressa
The women journalists who took part in the research said they had been subjected to a wide range of online violence, including threats of sexual assault and physical violence, abusive language, harassing private messages, threats to damage their professional or personal reputations, digital security attacks, misrepresentation via manipulated images and financial threats.

The Chilling illuminates the evolving challenges faced by women journalists dealing with prolific and/or sustained online violence around the world, including the ways that disinformation and the impact of the COVID-19 pandemic deepen the problem. It also pays careful attention to the nature of intersectional abuse – for example, where racism and bigotry overlap with misogyny as features of online attacks.

The full study includes the following:
35 key findings that point to the need for responses to online violence to be strengthened in technological sophistication and collaborative coordination
106 recommendations for action tailored for intergovernmental organizations, States, Big Tech, the news industry, legal and judicial actors, and civil society
A 25-step tool for developing online violence responses that respect freedom of expression
Analysis of 10 global trends in gender-based online violence
A taxonomy of 12 globally recognizable types and methods of attack to prepare for
A detailed assessment of international legal frameworks for addressing gender-based online violence against women journalists, as the UN recasts its decade-old Plan of Action for the Safety of Journalists

Top findings from the 2020 global survey
Nearly three in four women respondents (73%) said they had experienced online violence.
Threats of physical (25%) and sexual violence (18%) plagued the women journalists surveyed.
One in five women respondents (20%) said they had been attacked or abused offline in incidents seeded online.
The mental health impacts of online violence were the most frequently identified (26%) consequence. Twelve percent of respondents said they had sought medical or psychological help due to the effects of online violence, and 11% said they had taken days off work as a result.
Almost half (48%) of the women reported being harassed with unwanted private messages.
The story theme most often identified in association with increased attacks was gender (47%), followed by politics and elections (44%), and human rights and social policy (31%).
Forty-one percent of women respondents said they had been the targets of online attacks that appeared to be linked to orchestrated disinformation campaigns.
Political actors were the second most frequently noted sources (37%) of attacks and abuse after "anonymous or unknown attackers" (57%).
Facebook was rated the least safe of the top five platforms or apps used by participants, with nearly double the number of respondents describing Facebook as "very unsafe" compared to Twitter. It also attracted disproportionately higher rates of incident reporting among the respondents (39% compared to Twitter's 26%).
Only 25% of respondents reported incidents of online violence to their employers. The top responses they said they received were: no response (10%) and advice like "grow a thicker skin" or "toughen up" (9%). Two percent said they were asked what they did to provoke the attack.
The women journalists surveyed most frequently indicated (30%) that they respond to the online violence they experience by self-censoring on social media. Twenty percent described how they withdrew from all online interaction, and 18% specifically avoided audience engagement.
Online violence significantly impacts the employment and productivity of the women respondents. In particular, 11% reported missing work, 38% retreated from visibility (e.g. by asking to be taken off air and retreating behind pseudonyms online), 4% quit their jobs, and 2% even abandoned journalism altogether.
 

For inquiries, please contact:

ICFJ: Dr. Julie Posetti (jposetti@icfj.org) or Fatima Bahja (fbahja@icfj.org)

UNESCO: Saorla McCabe (s.mccabe@unesco.org) or Theresa Chorbacher (t.chorbacher@unesco.org)

Note: If you've found this content distressing or difficult to discuss, you're not alone. There are resources available to help. Start by exploring the resources from the Dart Center for Journalism and Trauma, and please seek psychological support if needed. Your privacy is of the utmost importance to us and we have worked with the University of Sheffield's Centre for Freedom of the Media (CFOM) to ensure that this research meets the highest ethical standards.

We are supported in our work by the following project partners: the Ethical Journalism Network (EJN), the Dart Center Asia Pacific, and the International Association of Women in Radio and Television (IAWRT).

*From an original sample of 1,210 self-selecting international survey respondents, 901 were accepted as valid detailed analysis. This report is based on a gender-disaggregated analysis of the 714 women-identifying respondents