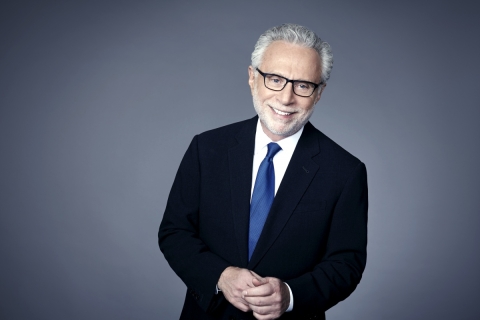 The International Center for Journalists (ICFJ) will honor CNN anchor Wolf Blitzer with the ICFJ Founders Award for Excellence in Journalism. The veteran journalist, who has delivered in-depth coverage of some of the world's biggest stories in a career spanning more than five decades, will receive the award Nov. 2 at the ICFJ Tribute to Journalists 2023 event in Washington, D.C.

Blitzer has anchored CNN's "The Situation Room with Wolf Blitzer" since 2005, providing reliable and insightful coverage of the fractious U.S. political system. Today, he is one of the world's most recognized journalists. On his nightly program, he covers breaking news, politics and global events – including most recently the war in Ukraine, the earthquakes in Syria and Turkey, and U.S.-China relations.

"In many ways, Wolf Blitzer is the voice of an era," said ICFJ President Sharon Moshavi. "He has expertly covered a far-reaching breadth of history here in the United States and internationally. He continues to deliver news reports and analysis to audiences every weekday with unfaltering professionalism, care and depth." 

Blitzer has kept coverage of the war in Ukraine  – and U.S. involvement in it – front and center since Russia invaded last year. He regularly interviews senior officials about the invasion, from Ukrainian President Volodymyr Zelensky to U.S. Secretary of Defense Lloyd Austin, and highlights the plight of Ukrainian civilians, such as in a 2022 reporting trip to Poland, home to more than 1.5 million refugees from Ukraine. He is often on the ground reporting from major global political stages, covering meetings between G20 leaders such as the 2021 summit between President Joe Biden and Russian President Vladimir Putin. 

Blitzer has provided in-depth reporting from around the world, in a career that began in 1972 with the Reuters News Agency in Tel Aviv. After working as a Washington, D.C., correspondent for The Jerusalem Post, Blitzer joined CNN in 1990 as the network's military affairs correspondent, reporting on the collapse of the Soviet Union in 1991. Blitzer went on to serve as CNN's senior White House correspondent, covering President Bill Clinton from 1992 until 1999, when he became the anchor of CNN's Sunday public affairs program "Late Edition with Wolf Blitzer."

In addition to his coverage of U.S. politics, Blitzer is known for his Middle East expertise. He covered the Iraq War in 2003 from the Persian Gulf region, and sat down with President Mohammed Morsi in 2013 at the presidential palace in Cairo, Egypt. The interview was one of dozens he has conducted with some of the world's most notable figures, including the late South African President Nelson Mandela.

For 10 years, Blitzer generously served as the master of ceremonies for ICFJ's annual Tribute to Journalists, "a testament to his heartfelt support for journalism globally," Moshavi said.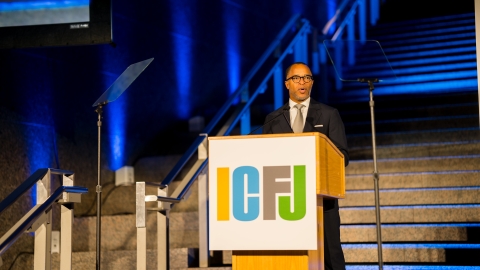 For the 2023 Tribute, Jonathan Capehart, a Washington Post associate editor and MSNBC host, will serve as emcee, as he did in 2022. Capehart is a Pulitzer Prize-winning journalist who covers politics and social issues as a Post columnist, podcast host and Washington Post Live host. He also anchors two weekend shows at MSNBC, and is featured on the weekly PBS segment, "Brooks and Capehart." 

The ICFJ Tribute to Journalists 2023 will take place on Nov. 2 at the Ronald Reagan Building and International Trade Center and will be broadcast virtually as well. At the same event, ICFJ will present the Knight International Journalism Awards, which honor journalists whose pioneering work has made an impact on the lives of people in their countries or regions. The winners of those awards will be announced in May. They are supported by the John S. and James L. Knight Foundation, which funds the ICFJ Knight Fellowships.

To learn more about the event or become a sponsor, go here.