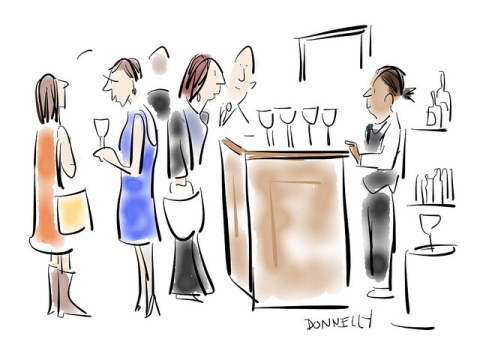 You all know about our upcoming ICFJ Tribute to Journalists 2020 on Oct. 5 at 7:30 pm EDT. If you haven't already, please sign up to attend.

What you may not know is that we have a wonderful pre-show that starts at 7 pm. We'll present a lineup of exciting guests and fun activities. Among the highlights:
The talented New Yorker cartoonist Liza Donnelly will make a drawing especially for us while talking about why she is so passionate about political cartoons. Be sure to bid to have Liza make a customized cartoon of you or someone you choose.
 
You'll  walk through our virtual gallery of breathtaking photographs from the National Geographic collection. They capture indelible moments in history such as the Rev. Dr. Martin Luther King Jr. holding the "I Have a Dream" speech in 1963, as well as gorgeous nature shots that make National Geographic so famous. You can bid on the photos during the pre-show -- or bid now. Get a jump on the competition!
 
Renowned spirits and cocktails expert Derek Brown will show us how to make his signature "International Journalist" cocktail, created just for this event. Be sure to stock up ahead of time on the ingredients.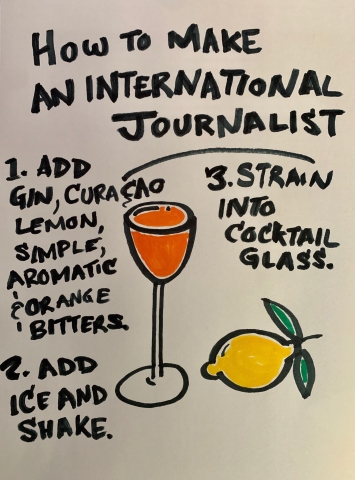 The pre-show will be hosted by entertainment reporter Joi-Marie McKenzie Lewis -- who started her career as an intern at ICFJ. The vivacious Joi-Marie will get you revved up for the main event.
Our Tribute to Journalists 2020 will be hosted live by CNN's Wolf Blitzer. We'll honor three outstanding journalists: Fareed Zakaria of CNN and The Washington Post, Lina Attalah, the intrepid editor of Mada Masr, one of the few independent news sites in Egypt; and Roman Anin, founder of IStories, a new investigative outlet in Russia uncovering stories of corruption in Putin's Russia.

If you have a question for Fareed, Lina or Roman, please submit it to us on Twitter, Facebook or Instagram. Just use the hashtag #ICFJawards. We'll collect the best questions to ask our award winners, and we'll credit you.

See you Monday for a most inspiring online journalism event this year.