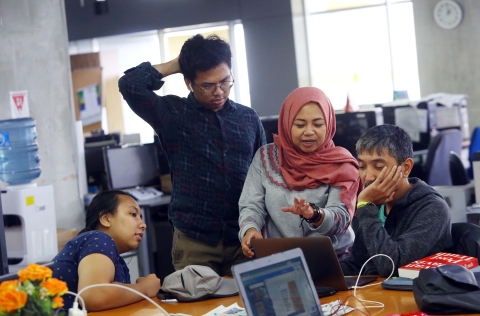 In 2017, Indonesia held one of its most polarized regional elections ever and news outlets found themselves at a loss for ways to counter the wide circulation of false information. But by the 2019 presidential election, an Indonesian publisher had developed a dynamic platform to help citizens distinguish lies from truth with help from ICFJ Truthbuzz Fellow Astudestra Ajengrastri.
Tempo.co, one of Indonesia's best-known investigative reporting outlets, transformed its fledgling fact-checking channel into an exciting platform with a growing audience that relies on its content. Ajengrastri came in to tackle the challenge of introducing Tempo's fact-checking channel to a new and younger audience while maintaining its loyal audience of older readers who subscribe to the outlet's digital products and its magazine for in-depth reporting.
Ajengrastri began by launching Instagram, Twitter and Facebook accounts for Tempo's fact-checking channel. The Twitter and Facebook accounts gained a sizeable following, but the Instagram account quickly gained the most traction with the younger audience. By creating visually attractive, easy-to-understand and shareable content, the account earned more than 12,200 followers in just eight months, gaining approximately 1,500 followers every month. 
The biggest impact came from live fact-checking during the presidential debates. "It was the first time Tempo had done something like this," said Ajengrastri. "During commercial breaks, we used Instagram live to interview experts on economy, politics and other issues that candidates would bring up." 
For Tempo's long-term audience base, Ajengrastri launched a weekly newsletter focused on misinformation and disinformation in Indonesia. "Previously, Tempo used its newsletters solely to share content with their audience," she said. "The fact-checking newsletter not only provided news and analysis but also put them in a larger context, giving readers a deeper understanding of issues such as technology's contribution to the spread of misinformation." 
The response from Tempo's audience was outstanding. The first fact-checking newsletter was sent out in February and, within six months, it had gained 5,200 subscribers — over 200 subscribers every month. 
Ajengrastri also worked with Tempo's team to improve audience experience on the channel's website by designing a color-coded scale to show how true or false Tempo's fact-checkers had rated a story or claim. 
As a result, the channel's performance soared. Daily readership reached its peak during the presidential election, and metrics showed that the audience was looking to Tempo as a trustworthy source of information during a critical time when misinformation was being spread through social media. 
Tempo has continued the processes created by Ajengrastri following her fellowship, which ended in August. They hired a team of fact-checkers, and Tempo editors believe that as the outlet has become more digital, fact-checking is a feature their audience has come to expect. 
"The presidential election may have ended but the regional election is coming up and the list [of issues] is endless," says Wahyu Dhyatmika, Tempo's editor in chief. "Fact-checking has become complementary to our work as investigative journalists. It helps build our reputation and strengthen our credibility and trustworthiness in the eyes of our audience. We must stay vigilant."
Astudestra Ajengrastri was an ICFJ TruthBuzz Fellow in Indonesia. The ICFJ TruthBuzz Fellowship is supported by Craig Newmark Philanthropies.