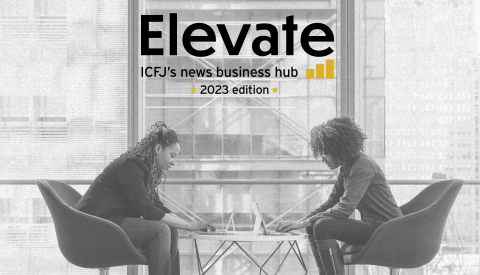 Journalists running small- or medium-sized independent news outlets will have the opportunity to build stronger, more viable organizations through Elevate, the International Center for Journalists' (ICFJ) news business hub, now entering its second year.

Elevate's 2023 programming kicks off with a series of media entrepreneurship courses in March led by business experts and open to all. Following the Pre-Elevate online courses, media executives from anywhere in the world can apply to take part in the second Elevate cohort. This group will receive intensive training, as well as be eligible for tailored mentorship and funding to tackle their major business challenges. 

"Our first group of Elevate participants showed us what's possible when you invest in newsroom leaders by giving them the business-focused support they rarely get," said ICFJ Senior Program Director Cristina Tardáguila, who leads Elevate. "This year we're reaching more news organizations, at a time when independent media are working hard in the face of financial uncertainty and government crackdowns to ensure they can serve their communities well into the future."

An independent evaluation of the 17 news organizations that went through Elevate in 2022 found that, in just eight months, they had achieved overall average growth of 13% in revenue and 18% in monthly users. Some found new revenue streams, like E7kky, an Egyptian online magazine focused on women in the Arab world that now runs an in-person event space. Others launched new products, like Foco Panamá, which now offers paying newsletter subscribers exclusive behind-the-scenes political coverage.

In 2023 and early 2024, Elevate will continue to focus on four key pillars: business strategy, operations and finance, technology and new media, and communications and marketing. Throughout, participants will have the opportunity to learn from a range of advisors, including executives from the corporate world, technologists and top-notch journalism trainers, as well as a leading media investor and a prominent university that specializes in entrepreneurship.
Pre-Elevate: Elevate mentors will hold weekly sessions – every Tuesday in March – on the basics of media entrepreneurship. This phase is open to all. 
School: Up to 30 select organizations – and as many as 60 news executives – will receive training and collective mentorship over a period of four months. Held in partnership with a recognized education institution, this phase will cover the four Elevate topics in depth and help participants zero in on one core problem holding them back. 
Mentorship: Ten of the 30 participant organizations will have the chance to receive individual mentorship for a three-month period. The goal is to develop strategies to overcome the core problems identified earlier in the program.  
Grants: After the first month of mentorship, participants will be able to apply for grant funding of up to US $10,000 each to develop business solutions.  

Elevate is supported by ICFJ's It Takes a Journalist campaign, which was designed to help journalists meet the most urgent challenges of today. ICFJ is grateful to the dozens of individual donors who have contributed to the campaign fund to date, allowing the organization to flexibly deploy resources where they are most needed. 

Learn more about Elevate and register to attend the Pre-Elevate courses in March.