Eighteen news outlets - in six regions of the world - will receive tailored support from a wide spectrum of entrepreneurial leaders and experts as part of Elevate, ICFJ's news business hub. The goal is to help these small and medium news organizations become financially viable and serve their communities well into the future.

Elevate's first cohort will work directly with a brain trust of key advisors and mentors: executives from the corporate world, technologists and top-notch journalism trainers, as well as a leading media investor and a prominent university specializing in entrepreneurship. This team will work with Elevate participants to sharpen their skills and address specific pain points standing in the way of growth. The news outlets also will be eligible for grant funding from ICFJ to pursue innovative solutions to business challenges.

ICFJ research has shown that independent news organizations everywhere face similar financial challenges. "We're bringing together news leaders from all corners of the globe to learn not only from the experts but also from each other," said ICFJ President Sharon Moshavi. "We'll take the creative solutions they develop and share them more widely with our global network of journalists, creating a ripple effect that extends beyond this first cohort."

ICFJ selected the 18 news organizations listed below from 206 applicants, through a competitive three-stage process that considered each candidate's fit for the program and regional diversity. The outlets focus on a variety of types of journalism, from local news and political coverage to fact-checking, technology and human rights. The vast majority reach their audiences first and foremost with online content. On average, Elevate's participants have six to 25 people in their newsrooms, and an annual revenue of more than $100,000.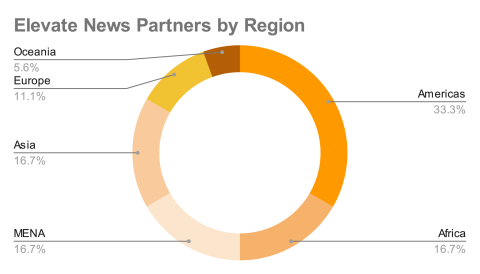 The selection process included several ICFJ staff and consultants with specialized expertise, including former ICFJ Knight Fellow James Breiner. 

"The digital disruption of the news business has been hard on journalists," said Breiner, a media sustainability expert who recently taught digital journalism and economics at the Universidad de Navarra (Spain). "Thousands lost their jobs but wanted to continue their public-service role. For them, journalism is not just a job. They believe in the need to provide trustworthy news and information. But they didn't always have the business skills needed to grow and be viable over the long term." 

Breiner, who reviewed all semi-finalists' applications and interviewed them, says he is "inspired by their commitment to their communities." 

The program will start in May and run for seven months. It will focus on solving news business problems in the following four areas: business strategy, operations and finance, technology and new media, and communications and marketing. In designing Elevate, ICFJ drew from significant experience running media sustainability programs in regions around the world, such as Velocidad and Emerging Media Leaders in Latin America and the IJNet Mentoring Center for digital startups in the Middle East and North Africa, to name a few.

Elevate kicks off with training sessions on business, innovation and entrepreneurship from Babson College, the number one school for entrepreneurship in several major rankings. In addition, Media Development Investment Fund (MDIF) / Media Advisory Services will conduct "problem assessments" with each participant. This partner's reports will guide ICFJ's staff and Elevate mentors throughout the year.

This initiative is supported by ICFJ's It Takes a Journalist campaign, which was designed to help journalists meet the most urgent challenges of today. ICFJ is grateful to the dozens of individual donors who have contributed to the campaign fund to date, allowing the organization to flexibly deploy resources where they are most needed.

Learn more about our grantees and their projects below.
| | | | |
| --- | --- | --- | --- |
| Region | Organization | Country       | Organization's Focus      |
| Africa | | Nigeria | Investigative |
| Africa | | Nigeria | Politics |
| Africa | | Nigeria | Technology |
| Americas | | Brazil | Fact-checking |
| Americas | | Brazil | Local/City/Region |
| Americas | | Colombia | Data-journalism |
| Americas | | Venezuela         | Local/City/Region |
| Americas | | Panama | Politics |
| Americas | | Guatemala     | Human Rights |
| Asia | | Georgia | Human Rights |
| Asia | | Pakistan | Politics |
| Asia | | Singapore | Technology |
| Europe | | Spain | Fact-checking |
| Europe | | France | Local/City/Region |
| MENA (Middle East + North of Africa)       | | Palestine | Politics |
| MENA (Middle East + North of Africa) | | Egypt | Gender |
| MENA (Middle East + North of Africa) | | Turkey | Fact-checking |
| Oceania | | Fiji | Local/City/Region |
Note: Participants in Elevate were chosen by a panel of ICFJ staff members and consultants, including James Breiner. Anyone on the committee with a close connection to an applicant did not participate in decisions regarding that applicant.