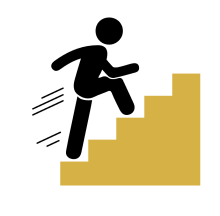 Elevate, ICFJ's news business hub, is a mind-changing global program focused on helping C-level journalists who are running small and medium-sized media outlets develop their business skills so that their newsrooms can become sustainable and grow. 
The program is an opportunity for journalists to learn from global business executives and to receive funding, all with the purpose of taking their operations to the next level. Are you one of those news media executives needing support?
Sign up for updates on the next cohort
What does the program look like?
Elevate 2023 will once again focus on solving news business problems that might be keeping your media organizations from thriving. The initiative helps participants by supporting their development in four tracks:
Business Strategy

Operations and Finance

Technology and New Media 

Communications and Marketing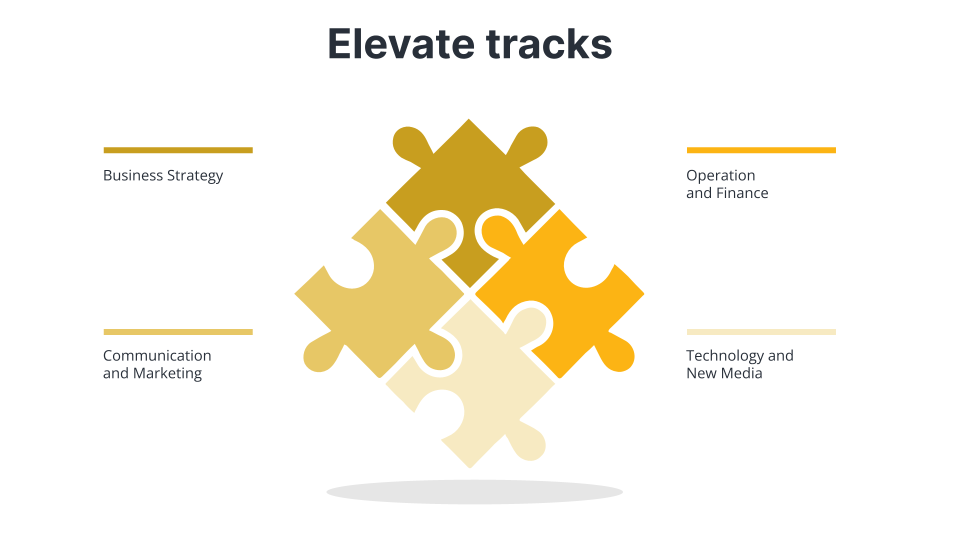 Building on the successes and lessons learned from Elevate's first cohort (read more below), Elevate 2023 will take off in March with even more participants. Elevate 2023 is a virtual, nine-month program divided into four phases: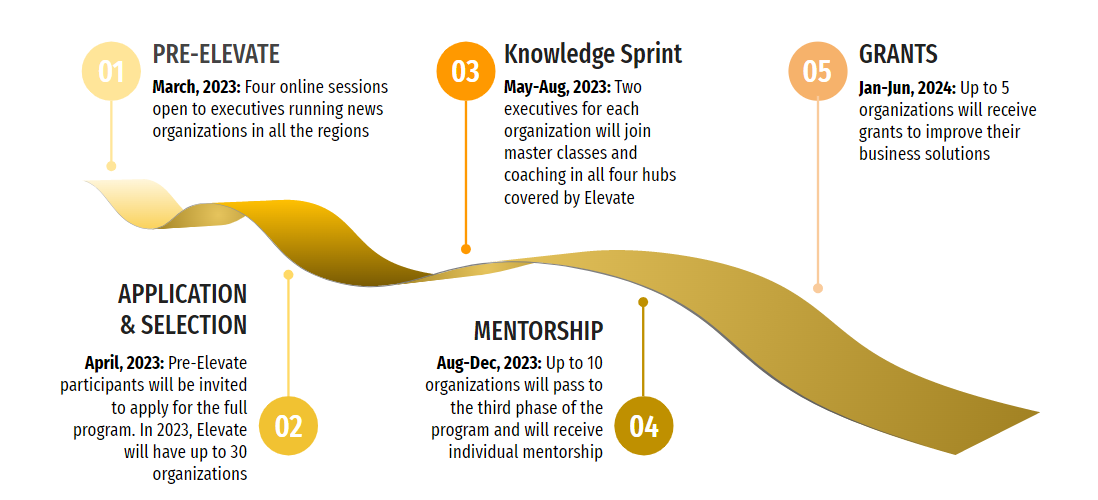 Pre-Elevate (March 2023): During the first four weeks, anyone seeking to level up their business skills has the opportunity to attend four sessions covering the basics of media entrepreneurship. Held each Tuesday in March, Elevate mentors give participants a taste of the Elevate experience. Held in partnership with the Pamela Howard Forum on Global Crisis Reporting, these 1.5-hour sessions focus on the foundations of business. Check out our 2023 Pre-Elevate series on YouTube.
Knowledge Sprint (May-August 2023): Up to 30 organizations (no more than 60 media executives) will be selected by ICFJ to receive training and to participate in collective mentorship sessions over four months. This phase is designed to deepen understanding of the four topics covered in the program, with the support of a well-recognized educational institution. Each month the team will focus on one of Elevate's core pillars, and participants will be requested to turn in concrete results of lessons learned. Participants will take part in a two-hour master class each month, along with two collective mentorship sessions to help them apply the material to their own case (amounting to six hours over the course of a month). By the end of the Knowledge Sprint phase, participants will determine their strengths and zero in on a core problem preventing them from thriving. Check the eligibility criteria.
Mentorship (August-December 2023): For three months, 10 out of the 30 participant organizations will have the chance to receive individual mentorship from a business expert. The goal is to develop strategies to overcome the core problem each identified earlier in the program. Participants will attend one individual meeting per week, lasting one hour (amounting to four hours a month dedicated to the project). Participants will be expected to report on their progress.
Grants (January-June 2024): After the first month of mentorship, participants will be able to apply for grant funding to develop business solutions. ICFJ has up to US$50,000 available at this stage (individual proposals shouldn't exceed US$10,000).

Sign up for updates on the next cohort
Eligibility criteria 
Applicants can be from any country (this is a global program) 

Applicants must have participated in at least two out of the four sessions offered by Pre-Elevate 

Small or medium-sized media outlets only (the organization must have at least four people in the team: C-level + 3) 
Applicants must have C-level positions and be fully dedicated to the initiative 

Media outlets must be officially active for at least two years  

Media outlets must have at least one active revenue stream 

Applicants must be 100% focused on finding ways to turn their media outlet into a sustainable initiative  

The problem the media outlet is struggling with must be related to one of the 4 areas Elevate is dedicated to solving. (Please note that no content-related problem will be addressed in this program)  
Applicants must be ready to commit to a nine-month program and dedicate up to four hours per week to it in the first four months (May-Aug) + one hour per week in the last three months (Oct-Dec) 

Applicants must be fluent in English (spoken and written)  
Who should participate? 
Elevate is right for you if: 
You are an executive in a small or medium-sized media outlet (C-level) and fully dedicated to it 

Your media outlet has been active for at least two years and has at least four people on staff 

Your media outlet has at least one active revenue stream 

You are 100% focused on finding ways to turn your media outlet into a sustainable initiative 
You can easily point out at least one business problem your outlet faces today 

You are ready to commit to a nine-month program and to dedicate up to four hours per week to it in the first four months and one hour per week in the last three months 
Elevate is perfect for you if you have fulfilled the previous definitions and if… 
You feel overloaded with business decisions and are struggling to delegate 
You have lost opportunities because you just didn't have certain business skills 

Your competition has stolen your great idea and is thriving, or you can't keep up with your competition 

You've lost staff because your outlet doesn't have a clear career policy or your salaries/benefits are poor 

You're being publicly recognized (for good or bad) and don't have a plan to handle it or profit from it 

You never thought you needed a legal team, but now you wish you had one 
You aren't sure about your branding, your logo 

You learned that you are not charging enough for your products 

You feel you aren't good in negotiations 

You are analyzing the odds of adding a new partner, a venture fund, or might be thinking of selling your brand/company/initiative 

You know how important it is to gather and track data to inform your decisions, but are not sure how best to do it  
Read about Elevate 2022 Impact 
This initiative is supported by ICFJ's It Takes a Journalist campaign which we designed to help journalists meet the most urgent challenges of today. We are grateful to the dozens of individual donors who have contributed to the campaign fund to date, allowing us to flexibly deploy resources where they are most needed.
For more information on the campaign, contact Vjollca Shtylla at vshtylla@icfj.org.
Program Dates:
3/7/2022 - 1/31/2024