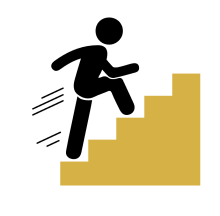 Elevate, ICFJ´s news business hub, is a mind-changing global program focused on helping C-level journalists who are running small and medium-sized media outlets develop their business skills so that their newsrooms can become sustainable and grow. 
The program is an opportunity for journalists to learn from global business executives and to receive funding, all with the purpose of taking their operations to the next level. Are you one of those news media executives needing support?
What does the program look like?
Elevate 2023 will once again focus on solving news business problems that might be keeping your media organizations from thriving. The initiative helps participants by supporting their development in four tracks:
Business Strategy

Operations and Finance

Technology and New Media 

Communications and Marketing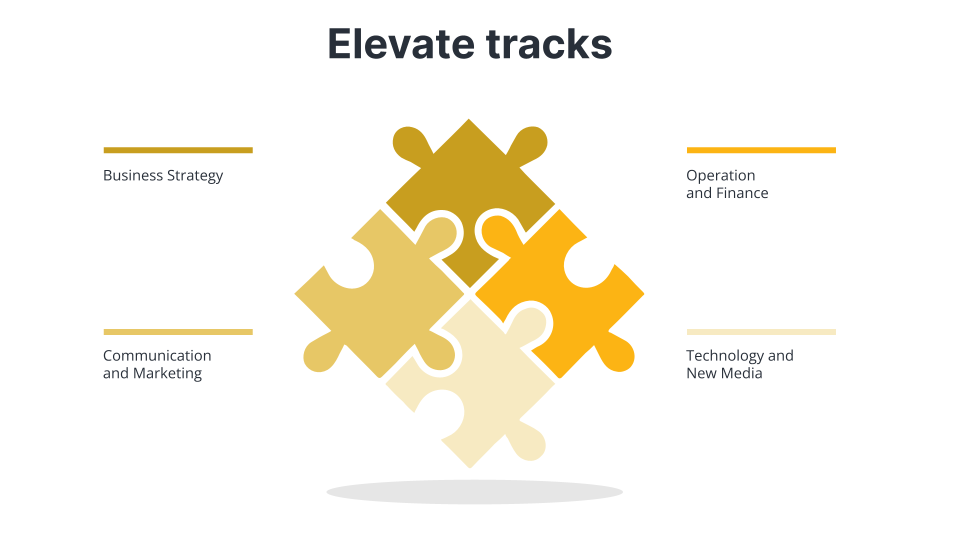 Building on the successes and lessons learned from Elevate's first cohort (read more below), Elevate 2023 will take off in March with even more participants. Elevate 2023 is a virtual, nine-month program divided into four phases: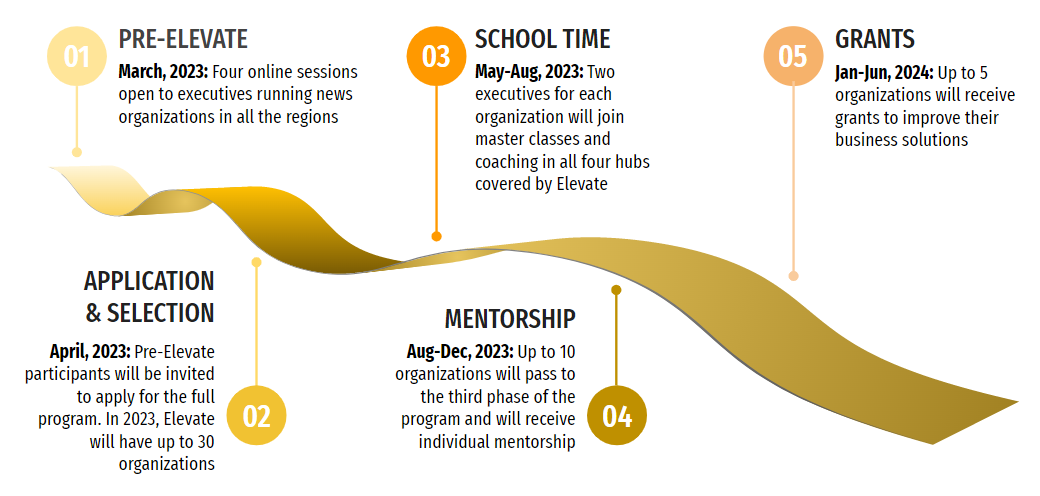 Pre-Elevate (March 2023): During the first four weeks, anyone seeking to level up their business skills will have the opportunity to attend four sessions covering the basics of media entrepreneurship. Held each Tuesday in March, Elevate mentors will give participants a taste of the Elevate experience. Held in partnership with the Pamela Howard Forum on Global Crisis Reporting, these 1.5-hour sessions will focus on the foundations of business. The webinars will start at 9 am EST and be held in English. Following the Pre-Elevate sessions, ICFJ will open a formal application for those participants who are interested in joining Elevate's 2023 cohort.
Session 1 – Business Strategy - Tuesday, March 7, 9am EST
How a solid business strategy can make things go horribly right 
Product and branding expert Rishad Patel condenses 20 years of experience into a one-hour crash course on business strategy basics. Drawing on his background in markets ranging from Singapore to Europe to United States, Rishad will break down the crucial components of business strategy and demonstrate to participants why good strategy is essential. 

Speaker bio: Rishad Patel is the co-founder of Splice Media.  For over twenty years, Rishad has designed and developed media products and branding for audiences and users for companies and markets in Singapore, India, New Zealand, Europe, and the United States. He has been a design consultant for MIT and ETH, an editorial consultant at various news companies, and co-founded a gifting app startup in San Francisco. Subscribe to Splice Frames, Rishad's weekly media product and design newsletter here. (https://www.splicemedia.com/frames) 
Session 2 - Finance - Tuesday, March 14, 9am EST
Journalists, embrace managerial accountability!
It doesn't matter if you are leading a non-profit news organization or a company. Understanding cost is vital. In this session, Cristina Tardáguila will review basic managerial accountability concepts and propose some exercises. 

Speaker bio: I've worked in journalism - as a reporter and as an editor - in different newsrooms and in different countries for many years. Now, as a senior program director at ICFJ, I am honored to say that I work for journalism and for journalists all over the world. My daily routine consists of planning and delivering a set of grants, fellowships and mentorship programs focused on media sustainability. Every good story deserves to be well planned and reach a large audience. And I am completely passionate about sharing what I've learned in this field with others.   
Session 3 - Communications and Marketing - Tuesday, March 21, 9am EST
Retire Link Dumping: Effective Strategies for News on Social Media
 
Forget about followers and likes; social media must help you move forward your core metrics or it doesn't pay off. Leonardo Guida Stamillo will discuss how to use the platforms as a powerful tool to generate insights, spread your content and elevate your game.  
Speaker bio
: The intersection between content and technology has been shaping my career over the last 15 years. After a strong editorial experience in some of the main news outlets in Brazil, I had the chance to join the tech industry and work with customers in multiple markets, creating products to promote high-quality content through innovative user experiences. I'm passionate about storytelling, content and people management. 
Session 4 - Technology and New Media - Tuesday, March 28, 9am EST
The Algorithm: Learn How to Feed the Beast
 
SEO expert Adriana Peña Johansson calls participants' attention to the importance of a strong tech backbone in any business. The future of media will be determined by those who can make the algorithm work in their favor. 
Speaker bio
: I am a passionate media business strategy consultant committed to supporting the efforts to defend people's right to know and the ideal of ethical journalism as a pillar in functional democracies and thriving communities. I help my clients grow their revenue, audience, and social impact. I am an expert on media business strategy, branded content, advertising sales and SEO for journalism. I led the growth of new revenue streams, increased existing ones, and managed P/L and brands of multimillion-dollar media companies. I consulted news organizations in Mexico, Argentina, Peru, Ecuador, Colombia, Chile, Paraguay, Brazil, Bolivia, Guatemala, Nicaragua, South Africa, France, Pakistan, and India. I help my clients grow their audience and revenue with in-depth business strategy consulting according to each country's media ecosystem and a hands-on mentoring process. I am an analytical certified Digital Marketer who has developed award-winning campaigns for global brands and has done several research studies on Media Ecosystems, Media Sustainability and Resilience, Social Media misinformation, Internet Habits, and SEO in journalism.  
School (May-August 2023): Up to 30 organizations (no more than 60 media executives) will be selected by ICFJ to receive training and to participate in collective mentorship sessions over four months. This phase is designed to deepen understanding of the four topics covered in the program, with the support of a well-recognized educational institution. Each month the team will focus on one of Elevate's core pillars, and participants will be requested to turn in concrete results of lessons learned. Participants will take part in a two-hour master class each month, along with two collective mentorship sessions to help them apply the material to their own case (amounting to six hours over the course of a month). By the end of the school phase, participants will determine their strengths and zero in on a core problem preventing them from thriving.
Mentorship (August-December 2023): For three months, 10 out of the 30 participant organizations will have the chance to receive individual mentorship from a business expert. The goal is to develop strategies to overcome the core problem each identified earlier in the program. Participants will attend one individual meeting per week, lasting one hour (amounting to four hours a month dedicated to the project). Participants will be expected to report on their progress.
Grants (January-June 2024): After the first month of mentorship, participants will be able to apply for grant funding to develop business solutions. ICFJ has up to US$50,000 available at this stage (individual proposals shouldn't exceed US$10,000).

Elevate's Impact
In 2022, Elevate supported 17 news organizations from six regions of the world with business training and mentorships. Here are a few success stories from Elevate 2022:
E7kky, an Egyptian online magazine focused on women in the Arab world, learned how to convert a million followers and outstanding online traffic into revenue. Through Elevate's training and mentorship, they realized that their product wasn't just their content—it was also their audience. Their new revenue streams include an event space where women can meet and learn.
During Elevate, Foco Panamá realized that they could build their relationship with their readers and generate revenue at the same time by using "the leftovers" of their daily coverage. The team built and started to charge their audience for an exclusive weekly newsletter that reveals the behind the scenes of national politics, using stories that  editors had left out.
OC Media, one of Elevate's grant recipients based in Georgia realized that they needed a bolder strategy to attract reader-generated revenue. Using their grant, OC Media will implement a robust membership model. Their goal is to reach 200 members by the end of 2023, ramping up over the following years to cover at least 15% of their annual budget.
 
This initiative is supported by ICFJ's It Takes a Journalist campaign which we designed to help journalists meet the most urgent challenges of today. We are grateful to the dozens of individual donors who have contributed to the campaign fund to date, allowing us to flexibly deploy resources where they are most needed.
For more information on the campaign, contact Vjollca Shtylla at vshtylla@icfj.org.
Program Dates:
3/7/2022 - 1/31/2024