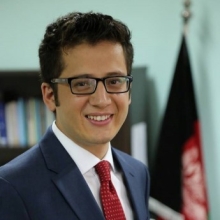 Former ICFJ Scripps Howard intern Sayed Zafar Hashemi has been named deputy spokesman for Afghan President Mohammad Ashraf Ghani, according to the office of the President.
Hashemi interned at the Scripps Howard Foundation Wire in 2007 and later worked at Voice of America as an editor and broadcaster.
The Scripps Howard Foundation Semester in Washington program provides two international students each year with the opportunity to work at the news service for a semester. It gives international students the chance to cover news from the nation's capital and to have their stories published by newspapers across the country.
During his time with Scripps Howard, Hashemi reported on the ongoing military actions in the Middle East as well as the security and stability of his native Afghanistan.
Hashemi received his bachelor's degree in political science from the University of Maryland in 2012 and his master's in public administration from Johns Hopkins University in 2015.
Main image courtesy of Sayed Hashemi.