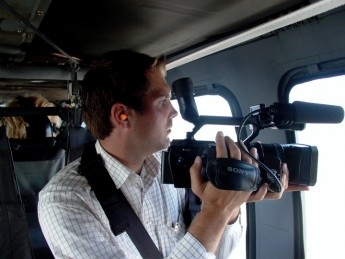 CNN Senior International Correspondent Fred Pleitgen has crisscrossed the world covering breaking news for the network. Looking back, he credits the Arthur F. Burns Fellowship, a reporting exchange program for German, U.S. and Canadian journalists, with launching his path.
"The fellowship made my subsequent career," said Pleitgen, who was placed at CNN's headquarters in Atlanta as a Burns Fellow in 2005. "About a year and a half after leaving CNN after the fellowship, I was called up by the network and asked to be their Berlin correspondent."
Pleitgen is one of 560 media professionals between the ages of 21 and 40 who have worked on either side of the Atlantic through the Burns Fellowship, now celebrating its 30th year. Established in 1987 to offer German journalists the opportunity to report from the U.S., the initiative expanded in 1989 to include U.S. journalists and in 2013 to include Canadian journalists reporting from Germany. Administered by ICFJ and the Internationale Journalisten-Programme (IJP), the program is named in honor of the late former U.S. Ambassador to the Federal Republic of Germany and former Federal Reserve Board chairman.
Many participants have said the Burns Fellowship jump-started their careers as foreign correspondents.
Cordula Meyer, a 1998 fellow, estimated that about one-third of the German correspondents in Washington, D.C. had at one time been Burns Fellows. "To work with them, share experiences and build on existing relationships was one of the most rewarding experiences," said Meyer, who worked for Der Spiegel as a Washington correspondent for several years after her fellowship.
In 1991, Douglas Blackmon, a young reporter at the Atlanta Journal-Constitution, headed to Berlin as a Burns Fellow. Later, as he watched Germany handle World War II-era slave labor lawsuits and Swiss "Nazi gold" cases, he decided to examine U.S. companies through the same exacting lens. "That ultimately led me to a story of American corporate reliance on slave labor in the 20th century," he said. He turned that article into his Pulitzer-Prize winning book, Slavery by Another Name: The Re-Enslavement of Black People in America from the Civil War to World War II.
Today, each class of fellows produces more than 250 stories about the host country, reporting for both their home news outlets and host media organizations. This coverage has helped improve their audiences' understanding of developments across the Atlantic, a mission that is more important now than ever.
After returning to their home newsrooms, Fellows say the experience continues to impact their work. As 2015 fellow Lisa Nienhaus, deputy editor at Die Zeit who was placed at VICE's New York newsroom, said, "I not only got to know a great city, but I also gained a new view on how journalists can captivate readers in the internet age. That summer changed the way I want to tell stories."
The latest class of 24 fellows recently finished orientation in Washington, D.C.. They will work in leading newsrooms including ProPublica and The Wall Street Journal in the U.S., Die Tageszeitung and Der Tagesspiegel in Germany, and CBC and The Globe and Mail in Canada.
Learn more about the Burns Fellowship and how to apply here.
Maia L. Curtis is the development director and publications editor for the Arthur F. Burns Fellowship. Previously she worked as a development manager for the International Center for Journalists.