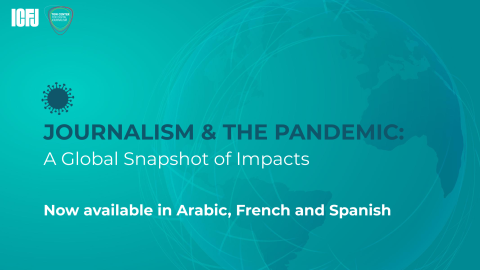 The first results from a global survey on journalism and the COVID-19 crisis are now available in three additional languages: Arabic, French and Spanish.
The International Center for Journalists (ICFJ) and the Tow Center for Digital Journalism at Columbia University launched the Journalism and the Pandemic Project in April 2020 to study the impacts on the field worldwide. 
Based on survey responses from more than 1,400 English-speaking journalists in 125 countries, the first report from the project surfaces alarming obstacles and threats confronting journalism during the first stage of the pandemic. 
The survey found that journalists around the world are contending with myriad daunting challenges as they report on a deadly pandemic, facing everything from a barrage of disinformation to heightened security risks and a mental health crisis.
The report is the first of a data-driven research series (which will also draw on surveys conducted in six other languages) that will address the challenges of reporting on COVID-19 and offer guideposts for reimagining a post-pandemic future for journalism.
To read the report in Arabic, click here.
To read the report in English, click here.
To read the report in French, click here.
To read the report in Spanish, click here.