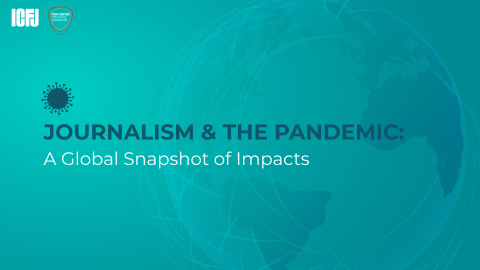 The Journalism and the Pandemic Project from the International Center for Journalists (ICFJ) and the Tow Center for Digital Journalism at Columbia University has published the first large-scale global survey of journalists since the COVID-19 pandemic began. The project is mapping the impacts of COVID-19 on journalism worldwide, informing responses to the crisis, and helping to reimagine its future.
A global snapshot of impacts
The first 30 findings from the project -- based on responses from more than 1,400 English-speaking journalists from 125 countries -- are both startling and disturbing. At a time when the public needs to rely on credible independent journalism to stay safe and informed, journalists and news organizations are grappling with a mental health crisis, financial peril, physical safety threats, and press freedom attacks, while simultaneously battling pandemic levels of disinformation. Among the top findings:
Politicians and elected officials were identified by 46% of respondents as a top source of disinformation.
81% said they encounter disinformation at least weekly, with more than one-quarter identifying false information many times a day.
Facebook was identified as the most prolific spreader of disinformation.
Nearly half said their sources had expressed fear of retaliation for speaking to journalists during the pandemic.
30% said that their news organizations had not supplied field reporters with a single piece of protective equipment during the first wave of the pandemic.
70% identified the mental health impacts of covering COVID-19 as the most difficult challenge.
The report is also available in Arabic, French and Spanish.
The yearlong "Journalism and the Pandemic Project" will include additional reports in the coming months - drawing on surveys in six other languages - that further analyze:
How the pandemic is transforming the business and practice of journalism;
What threats to media freedom and journalism safety have emerged with COVID-19, and how journalists and news organizations are responding to them;
How journalists and news organizations are experiencing and working to combat the flood of misinformation and disinformation accompanying the pandemic.
As journalism faces a potential "extinction event," this work is urgently needed. The research allows us to identify challenges and help guide the future of journalism in the face of an unprecedented convergence of threats.
For more information, or to express interest in collaborating as a research partner, please contact the research project's leaders Dr. Julie Posetti (ICFJ's Global Research Director) and Professor Emily Bell (Director, Tow Center for Digital Journalism) at PandemicProject@icfj.org. Fatima Bahja, ICFJ's research and proposal coordinator, can also be reached at +1-202-349-7638 or fbahja@icfj.org. 
We are grateful to the global philanthropic organization Luminate for their support with this project. Credit also goes to our project partner the Committee to Protect Journalists (CPJ).
The project is affiliated with another ICFJ initiative to provide critical aid to journalists covering COVID-19 as it arguably becomes one of the most important and complex stories of our time.
Program Dates:
5/12/2020 - 12/31/2021