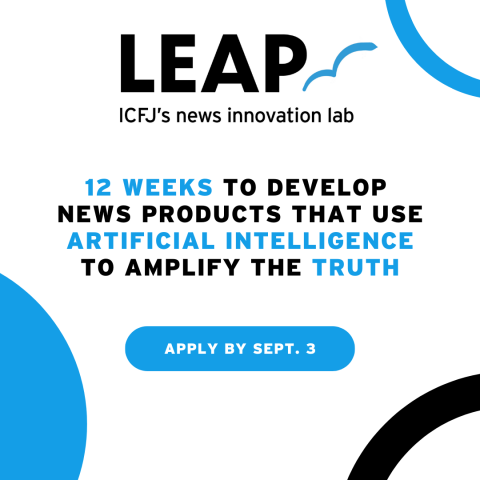 Media leaders from across the world will develop innovative ways to use artificial intelligence to fight disinformation and spread trustworthy news, as part of an opportunity from the International Center for Journalists (ICFJ).  Applications are open until Sept. 3.

Journalists, technologists and product specialists are eligible to take part in the AI and Disinformation Solutions Challenge offered through Leap, ICFJ's news innovation lab. With the support of experienced coaches, participants will develop products and processes that use AI to amplify the truth. The teams with the most promising prototypes at the end of 12 weeks will receive funding to further implement their ideas.

"AI tools have become so cheap, powerful and targeted that they are changing the game for disinformation," said Maggie Farley, ICFJ's Senior Director of Innovation. "This Solutions Challenge isn't just about news innovation. It's about preserving the trust and integrity of journalism in the age of AI."
 

To start, experts will train participants on design thinking innovation processes, as well as topics such as detecting AI-manipulated content, safeguarding original content from AI crawlers, championing ethical AI use in newsrooms and fast-tracking fact-checking. Participants will work with industry innovators, including the creator of GPTZero, Edward Tian, and Adobe's Content Authenticity Initiative leader Santiago Lyon.

ICFJ is accepting applications from across the world. While individuals will be considered, teams of people from the same organization are encouraged to apply together so they can better implement what they create. The Solutions Challenge will start on Sept. 18. 
 

In ICFJ's first Leap Solutions Challenge, nearly 40 journalists and technologists from six regions of the world developed innovative ways to build trust in news. Read more about their projects, and see this interview with a team at Vox in the U.S. about their experience.

ICFJ is immensely grateful to the dozens of individual donors who have made this initiative possible by contributing to our It Takes a Journalist campaign. Their support allows ICFJ to flexibly deploy resources where they are most needed.