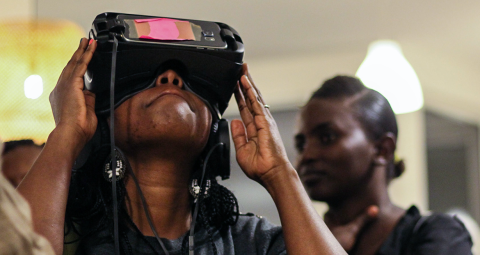 Good ideas know no geographic bounds. That's why we're bringing the amazing work of our ICFJ Knight Fellows to U.S. newsrooms. And it's why I hope U.S. journalists will consider how they can collaborate with our Fellows.
ICFJ Knight Fellows are journalists and technology experts who lead transformative media projects around the world. Our Fellows do everything from creating data journalism teams to redesigning newsrooms to building and sharing tools, all in the service of great storytelling. They aim to engage the public in news that makes a difference in people's lives. The program is funded by the John S. and James L. Knight Foundation, with additional support from the Bill & Melinda Gates Foundation.
For U.S. newsrooms, here are just a few examples of our work that could be extremely useful: 
We're helping to transform newsrooms. ICFJ Knight Fellow Nasr ul Hadi, who specializes in workflows, has helped South Jersey outlet SNJ Today to radically restructure its organization to foster collaboration among the newsroom's different platforms (TV, radio, print, digital).
We're helping newsrooms show, not just tell, why their work matters. ICFJ Knight Fellow Pedro Burgos has created Impacto so that news outlets can track the impact of their stories and share that information with their audiences. Our goal is to show that when news organizations demonstrate how they are improving communities, they will build loyalty and even revenue. Burgos is starting to test Impacto in select U.S. newsrooms.
We're supporting cross-border investigative reporting projects. ICFJ Knight Fellow Fabiola Torres Lopez, a data journalism specialist in Latin America, is helping the ICFJ-incubated Connectas investigative reporting network surface major stories on complex subjects such as financial fraud. We'd love to see U.S. newsrooms collaborate in future investigations, or set up content partnerships.
We're helping Spanish-language startups in the U.S. and Latin America to become financially sustainable. Through her training website, the SembraMedia School, ICFJ Knight Fellow Janine Warner gives media entrepreneurs the business skills they need to be successful.
Over the next few months, you can connect with featured speakers Torres and Warner at the National Association of Hispanic Journalists conference in Miami in July. At ONA in Austin, Texas, in September, our Fellows will reprise our popular "Steal My Tool" session, featuring the latest digital offerings they have developed. 
U.S. colleagues, shoot me an email if you believe our Knight Fellows - or their innovations - can be useful in your newsrooms. You can keep up with our Fellows' exciting work by connecting with us on Twitter or Facebook, and reading their latest posts on the International Journalists' Network (IJNet.org). 
Since 2016, our Fellows have been in touch with more than 50 U.S. news organizations, and we hope yours will be next. We can't wait to see how we can work together.
Colmery is the director of ICFJ's Knight Fellowships program.
Photo Credit: Code for Africa