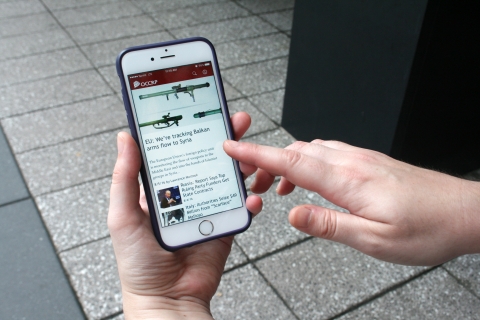 Now that the majority of Americans access news on their mobile devices, U.S. newsrooms must grab attention on those devices--or risk irrelevance. But developing and maintaining effective mobile apps from scratch is often too expensive for small publishers.
Enter Push, an open source template for iOS and Android mobile apps that can help news organizations that lack the time, money or resources to hire a developer to write custom code. Using Push (as opposed to building an app from scratch) can save an organization an estimated $50,000, according to recent ICFJ Knight Fellow Christopher Guess, who created the project. Guess is teaming up with the Center for Cooperative Media (CCM) to bring "Push" to five New Jersey newsrooms. Each will receive a custom mobile app to help it more effectively distribute content.
"The Push Project was developed to address a problem that newsrooms across the world are facing: how to inform citizens with timely, relevant and factual news," Guess said. "It's increasingly imperative that not only those with the most money have the loudest voices."
Despite its low setup cost, Push gives media all the features that readers expect from a mobile app. It allows users to read a publication's latest articles, watch videos and share content to social media. App users can read the content on the go, whether they have an Internet connection or not, a potentially important feature for subway commuters in New York and New Jersey.
The app's eponymous push notification function allows media to directly deliver top stories to readers' cell phone lock screens – even if they haven't opened the app itself in weeks. CCM Associate Director Joe Amditis said this feature may prove especially useful for local news outlets.
"Partnering with Push … will help to bridge the innovation gap that exists between large and small publishers, Amditis said."As a result, we hope that the five local newsrooms receiving mobile apps as part of this project will use them to increase engagement and strengthen their relationships with the communities they serve."
During his Fellowship, Guess developed Push for use by the Organized Crime and Corruption Reporting Project (OCCRP), which was co-founded by former ICFJ Knight Fellow Paul Radu. As a result, OCCRP and five of member centers in Eastern Europe are all running their first mobile apps.
ICFJ is eager to expand the impact of our Knight Fellowships program by sharing the Fellows' work with journalists in the United States. If your newsroom is interested in Push – or another one of the Fellows' tools – contact ICFJ Knight Fellowships Program Director Ben Colmery and Program Manager Sara Olstad.