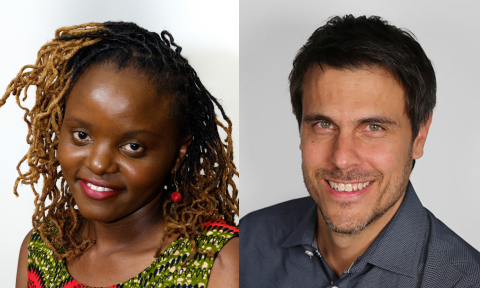 Journalists from Kenya and the United States are the first recipients of special grants and mentoring for data-driven investigations into child mortality and climate change. These inaugural ICFJ Alumni Reporting Grants, backed by the Microsoft Modern Journalism program, help support data journalism and immersive storytelling projects. 
Verah Okeyo, a health reporter at the Nation Media Group, the largest independent media house in East and Central Africa, will work with her colleagues to uncover why child mortality is declining in some Kenyan counties and rising in others. Okeyo participated in ICFJ's HIV Prevention Reporting Fellowship in 2016. 
Josh Landis, who runs the nonprofit Nexus Media News, will receive a grant to investigate how climate change is influencing U.S. real estate markets. Landis reported from Berlin in 2005 as an ICFJ Arthur F. Burns Fellow. 
The grants are designed to help ICFJ alums incorporate the latest tools for data analysis and visualization into their investigations. Each award includes $7,500 plus hands-on training in tools and techniques, and instruction in relevant Microsoft technologies.
"These projects combine insightful journalism with compelling, creative use of data," said Sharon Moshavi, ICFJ's senior vice president of new initiatives. "This is an exciting opportunity for our alumni to dive into timely issues impacting their local communities."
Okeyo will work with her colleagues at the Nation Media Group science desk to investigate child mortality trends in Kenya by pairing demographic data analysis with field reporting at health facilities. She says the team hopes their work will inform ongoing efforts to extend the lifespan of children in the country.
Landis will explore how climate change is transforming U.S. real estate markets. He will combine housing and insurance data with information about real and predicted sea level rise, extreme weather events and flooding. Interviews and original polling will further reveal how residents are adapting to the stark changes in the environment. 
His newswire covers climate, energy, policy, art and culture in original articles and videos, many of which are republished by outlets including Popular Science, Fast Company, Quartz, Huffington Post and PBS. While at CBS, Landis co-created the Emmy-nominated animated news series, The Fast Draw. 
The next grant cycle will support immersive storytelling projects. Applications are open to current and past participants of ICFJ programs. The deadline to apply is April 26.
The Microsoft Modern Journalism program is an initiative to help journalists thrive in the digital age.
To learn more, please visit our ICFJ Alumni Reporting Grants page, or contact ICFJ Program Officer Lori Ke at lke@icfj.org.