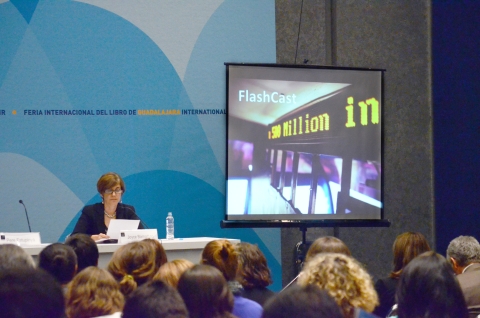 Thought leaders from the International Center for Journalists, including ICFJ President Joyce Barnathan and two Knight International Journalism Fellows, headlined panel discussions on media innovation at the Guadalajara International Book Fair.
Sponsored by the Universidad de Guadalajara, the nine-day fair featured panel discussions and workshops aimed at tackling challenges faced by journalists around the world.
Barnathan gave two speeches during the Book Fair. At a conference sponsored by TVMorfosis, she talked about South-to-South innovation and how ICFJ helps spread new tools and ideas, from country to country, around the world. Barnathan also gave the keynote speech for the first Hackathon on Science and Technology, organized by the Inter-American Development Bank. She highlighted how ICFJ is incubating media startups in Latin America and beyond.
Jorge Luis Sierra, director of ICFJ's Knight Fellowships, and Luis Manuel Botello, senior program director of special projects, were on a panel where they discussed data journalism, digital technology and the importance of audiovisual content.
Two Knight Fellows also participated in events at the fair. Juan Manuel Casanueva hosted a workshop on designing digital platforms. During his Knight Fellowship, Casaneuva is developing civic engagement labs in Mexico and Central America to support data-driven media projects.
Former ICFJ Knight Fellow Sandra Crucianelli led a workshop on her specialty: data journalism. During her fellowship, Crucianelli built a data-journalism team at La Nacion in Argentina. With her guidance, the team tracked, analyzed and, for the first time, published details of how the government dispensed tax revenue earmarked for Argentina's crumbling public services.
For more information on the Guadalajara International Book Fair, click here.