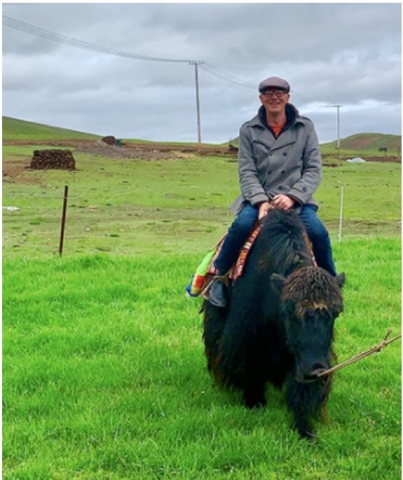 Claire Pohunkova is a reporter and student at the Global Business Journalism (GBJ) program at Tsinghua University in Beijing, China. The two-year master's program is a partnership between ICFJ, Tsinghua University, and Bloomberg News. The story has been cross-published from GBJ's website.

Erik Nilsson is a man on a mission. He has traveled to China's most remote areas on his own, bought yaks, installed solar panels at 4,000 meters of elevation, escaped an earthquake, and witnessed unprecedented development in communities the world had never heard about.

For his "contributions to China's social and economic development," he received the China Friendship Award as the youngest foreigner in history. Nilsson's diverse contributions include journalism, book authorship, and volunteering, but they all have one focus: poverty alleviation.

"Telling and contributing to the story of China's poverty alleviation miracle is the topic I have devoted my life to for the past 14 years since I arrived in China," the 34-year-old journalist told Global Business Journalism students.

"I do think 'miracle' is the appropriate word in this context, because the scale, scope, and speed are absolutely unprecedented in human history," he explained.

Nilsson visited "every province, municipality, and autonomous region in mainland China" in order to see and experience how China has achieved this.

"I am not only covering, but also living many of these incredible stories," he shared.

As a student in his native Michigan, Nilsson originally envisaged a career in conflict reporting from the Middle East. Despite having no prior interest in Asia, he accepted an internship opportunity at China Daily in 2006. Eventually, he "truly fell in love with China."

"After the internship, they offered me a job, so I decided to stay for a year," Nilsson recalled. "Then I thought: I'll stay one more year. Then there were the Beijing Olympics; and after that the Yushu earthquake."

Two earthquakes outline Nilsson's China story. He was supposed to be in Sichuan province when it was struck by an earthquake that killed 90,000 people in 2008. Luckily for him, his scheduling had changed; however, "a host of forces later pushed and pulled" him to the quake zone 15 times.

Two years later, Yushu, on the Tibetan Qinghai plateau, was hit by an earthquake of a 7.1 magnitude, leaving the area in extreme poverty.

"Sichuan taught me how to find light in the darkness; Qinghai taught me how to create light," Nilsson narrates in one of his videos, which he played during his talk.

When he first visited Yushu in 2011, he met its first generation that could read. But at more than 4,000 meters above sea level, progress was slow: there was no electricity.

"The kids would effectively become illiterate after dark," he explained. "They slept on boards in tents, with no heating. In this area, it snows all but six weeks of the year."

By installing two solar panels, Nilsson enabled 78 children to do their homework. He then founded a volunteer group, which electrified schools throughout an area larger than Switzerland, and supplied necessities like medicine, clothing, and even yaks.

"When I first arrived in China, I never imagined I would end up buying, riding, milking, and getting kicked by yaks," he laughed.

Since 2011, Qinghai's situation has changed. The entire province has electricity and has been setting world records for green energy since 2017. Schools are heated and equipped with advanced computer and science labs.

"I was astonished when I returned in 2019. The labs have various models of bodies, even specimens of frogs going through metamorphosis," Nilsson said.
As the government took charge of supplying material necessities in the province, Nilsson's initiative shifted to facilitating surgeries and offering university scholarships to those in need. Nilsson's videos share some of these success stories.

However, Nilsson's biggest contribution to China stems from his devotion to telling its stories.

Working for China Daily, an English-language Chinese media company, enables Nilsson to share stories from all over China to domestic and global audiences alike. His videos, narrated in slow, well-articulated English, are subtitled in English and Mandarin.

Throughout his GBJ guest lecture, his words were just as carefully articulated. Nilsson has co-authored 16 books and won multiple journalism awards, and his videos about China are nearing 300 million views. As he talks about his "life mission", it is not pride that stands out, but passion for his work and humility towards the stories he gets to tell.

"China's poverty alleviation is the story of the year, decade, century," he said. "I hope that through my work, I can contribute and communicate it to the world."

His stories cover a range of topics: rural villages turning into successful tourism co-ops; subsidized greenhouses yielding drought-resistant potatoes, doubling farmers' income; emu farms replacing sheep herding, since the birds don't destroy grasslands like sheep and their meat sells for twice as much; a bookstore run by an illiterate shopkeeper.

As diverse as they are, these stories have one thing in common: They are stories of success.

"There has never been a better time to be alive," Nilsson said. "Even with Covid 19. We are overcoming all evils and witnessing unprecedented exponential growth. Poverty is decreasing – and China alone contributed to 70% of the alleviation of poverty."

Nilsson mostly comes up with his own story ideas. He travels to areas where few foreigners would go and finds stories along the way.

"Some of these places have never been written about in the English language," he said.

When asked whether he thinks an American or other non-Chinese news agency would allow him to work on such stories, he doesn't provide a clear answer. Instead, he recounts that he became "a believer in China's poverty alleviation" after visiting China's remote areas independently on his own, unaccompanied by officials.

"I didn't expect I'd be able to see everything I wanted to – but I was," he said. "I think to a certain extent, Western media would be very interested in these stories. However, I think there would almost be a default requirement to throw in some criticisms –whether they be appropriate to the topic or not."