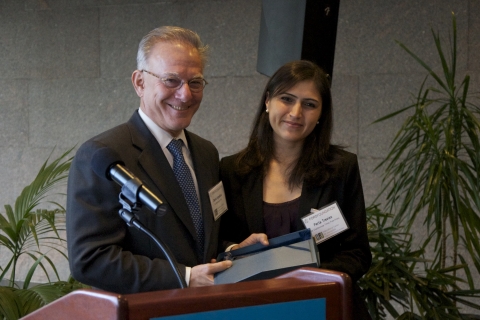 Perla Trevizo took first prize for developing a multimedia-rich web portal called Between Two Worlds. She focused on the unsettled lives of children born in the United States to undocumented Guatemalans in Chattanooga, Tenn. Nicholas Shields, working at WTTW, the PBS affiliate in Chicago, received an honorable mention for his segment on the struggles of an undocumented 19-year-old Mexican student unable to qualify for financial aid to attend college in Chicago.
Both journalists participated in Bringing Home the World, ICFJ's international reporting fellowship program for minority journalists. Funded by Ford Foundation, the initiative expands international coverage by giving minority journalists the chance to report from overseas, providing an enriching career experience and an opportunity to cover important issues that resonate in their communities. In all, eight fellows published in news outlets that reach nearly 100 million people.
The fellows were honored at a luncheon on Tuesday, Dec. 6 at Ford Foundation's headquarters in New York. During a panel discussion, Trevizo, who traveled to Guatemala for her story, said, "There was no way my newspaper would have had the resources and the training to prepare me to do such a project." Trevizo's winning series involved seven slideshows, six videos and 13 news stories. The series generated robust web traffic of 25,000 visitors and nearly 400 reader emails. Trevizo has since spoken at universities and private schools, engaging her audience on this complex topic.
Shields' piece aired as Illinois' legislature was grappling with the issue of scholarships for undocumented college-bound students. Three months after the piece ran, Illinois governor Pat Quinn signed the Illinois Dream Act, giving illegal immigrants access to college scholarships and savings programs.
To read more of their stories, click here.