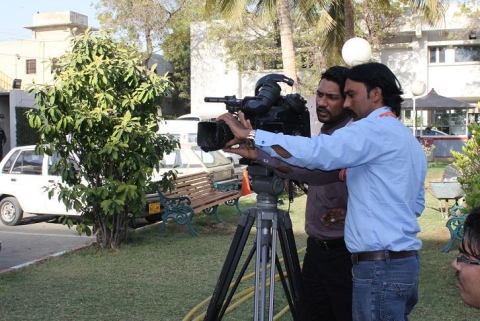 To meet the growing demand for professional journalists in Pakistan, the International Center for Journalists (ICFJ) recently launched the Center for Excellence in Journalism (CEJ) in Karachi. The school offers hands-on training modules for working journalists that marry best professional practices with the latest digital technologies. The program partners include the Institute of Business Administration (IBA) in Karachi and Northwestern University.
This first of a kind school opens at a key time for the news industry in Pakistan. According to BBC Media Action, between 2002 and 2010, 89 television channels were launched and 138 FM radio licenses were issued in Pakistan.
"While private news media organizations have mushroomed in Pakistan, there are limited or no world-class training or education opportunities for journalists and media professionals in the country," said Babar Taimoor, ICFJ's program director who oversees projects in Pakistan, including the CEJ. "This program fills the void."
The school offers two-week intensive training modules. The first, on multimedia and mobile journalism, took place in September. In January, the school held a second module on business and economic reporting. And a third on short TV documentary production was offered in February. Thus far, 50 journalists and media professionals have participated in the program.
Wasif Shakil, a journalist from Pakistan's Geo News who attended the multimedia course, said, "Pakistani journalists need to learn the technology to be able to report better in a safe environment and this is only possible through international collaborations...Now with the CEJ, this issue may be overcome."
Brent Huffman, a Medill professor who taught the short TV documentary course, said he was "blown away by the amazing storytelling" by the students.
Future modules will focus on topics including basic newswriting and editing, media law and ethics, conflict reporting and multimedia storytelling.
ICFJ is also creating a broadcast studio and multimedia lab at IBA. The lab will give journalists a chance to learn practical skills in a real newsroom environment where they will have access to the latest technologies and resources.
ICFJ has built a strong connection with journalists in Pakistan since 2011, when it launched the largest exchange program for U.S. and Pakistani journalists. The U.S.-Pakistan Professional Partnership in Journalism program has involved more than 180 Pakistani journalists, who have had the chance to work for three weeks in US newsrooms.
This program is made possible through a grant from the Public Affairs Section of the U.S. Embassy in Islamabad.