BRASÍLIA — Protesters gathered outside the National Congress as I made my way inside to visit the lower chamber. Hours later, the demonstrators, angry over a pension reform plan, would be met with pepper spray as they tried to enter the chamber.
As a journalist who has covered Texas government and politics for years, I'm used to political protests, but the vibe here seemed different.
I had come to Brazil to meet with reporters and editors as part of the International Center for Journalists fellowship A Digital Path to Entrepreneurship and Innovation in Latin America. My February trip came months after the impeachment and ousting of the president and weeks after the Supreme Court justice overseeing a massive corruption probe was killed in a plane crash. (The largest corruption scandal in Brazil's history had ensnared a growing number of politicians over bribery and kickbacks.)
One of the journalists I met told me current affairs had become so engaging in Brazil that soap-opera fans were tuning into the news because it reminded them of their telenovelas.
So it was an incredible time to visit newsrooms and meet with journalists as they wrestled with questions like these: Is it a good idea to publish messages between a hacker and Brazil's first lady?
Just last spring, I knew little about Brazil's politics or journalism.
That's when ICFJ sent a Brazilian journalist to spend three weeks at my workplace, The Texas Tribune, a nonprofit news organization that covers Texas government and politics.
Days after the journalist, Juan Torres, arrived in Austin, Brazil's president — Dilma Rousseff, the first woman to hold that office — was suspended.
Over Texas barbecue, pickup soccer and newsroom gatherings, Juan gave my colleagues and me a crash course in politics and journalism in Brazil. We also learned about Juan's coastal hometown of Salvador, Brazil's first capital and a hub of Afro-Brazilian culture. Juan, the innovation editor at Correio newspaper, told us about his work to create a digital strategy for his organization.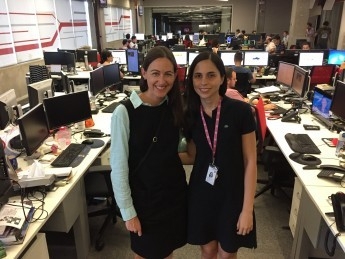 A few months later, as part of the same program, I was on a plane to Salvador. Though I have a deep interest in Latin America — I majored in Spanish in college and later lived in Mexico City — I had never been to South America. In Salvador, I visited Juan's newsroom to give a presentation about how The Texas Tribune covers local news — and to learn how Correio journalists cover local news in Salvador.
Then it was onto Brasília, Rio de Janeiro and São Paulo with my incredible host, Guilherme Alpendre of Abraji, the Brazilian Association For Investigative Journalism. We visited a fact-checking operation, a huge media organization, several major newspapers, and startups focused on the country's judicial system and the Amazon. We toured favelas with community journalists who tell stories about impoverished neighborhoods. We also took in a soccer game.
Over many cups of coffee, I talked with innovative journalists who are navigating the same challenges as my colleagues at The Texas Tribune: how to use data to tell compelling stories online, how to engage with audiences, how to get our hands on information that should be public, how to pay for the journalism we do.
I hated to leave Brazil, because I wanted to spend more time with the journalists I met, and to see up close the next stages in the country's political saga.
But other soap operas awaited me at home in Texas.
Corrie MacLaggan is the managing editor of The Texas Tribune.