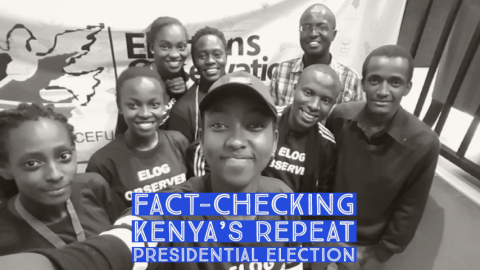 Zimbabweans go to the polls at the end of July for a historic vote - the first since Robert Mugabe was ousted after 37 years in power. As they do, getting accurate and timely information will undoubtedly be a challenge. Elections in any country are often accompanied by serious outbreaks of misinformation.
That's why we are taking our model for verifying information in real time during an election - an approach developed in Kenya - to Zimbabwe. It is the first time PesaCheck's elections model will be tested outside of Kenya. We are eager to bring it to other parts of the continent as well.
As East Africa's first fact-checking service, PesaCheck, an initiative of ICFJ partner Code for Africa, focuses primarily on budgets and public finance. But we also carry out verification and fact-checking on matters of national importance, such as elections.
Kenyans went to the polls in October, after the Supreme Court nullified the August election over concerns the voting may have been hacked. During this time, there was a particularly troubling outbreak of misinformation, as various players fought to influence the outcome. This made the work of checking and verifying the information going round on social media, as well as being posted online through various outlets, a matter of absolute necessity.
Over 72 hours, we fact-checked 100 social media posts. We found 27 of these to be patently false. We notified the Elections Observation Group (ELOG), who publicized our findings at press conferences. We also identified cases of election malpractice, voter bribery and outbreaks of violence, which ELOG then brought to the attention of the electoral commission for further action.
To check the claims, Code for Kenya worked with ELOG, which had nearly 2,200 observers fanned out across the country. We added a verification team of six journalism students from Daystar University. Catherine Gicheru, an ICFJ Knight fellow and the Code for Kenya country lead, taught the students the fundamentals of verification and fact-checking as part of Storylab Academy's introduction to data journalism trainings. They took these lessons - along with new digital tools for verifying information - and used them to systematically vet claims in real time (learn more about our process).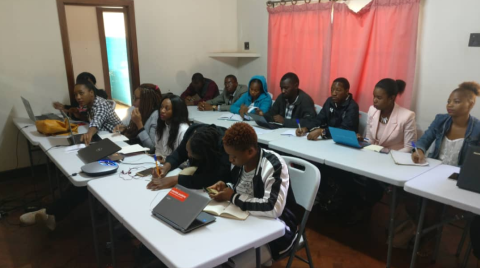 Ahead of this historic election for Zimbabweans, we are training journalists, members of civil society and technologists to do the same. Not only is this the first election since Mugabe, but it also will not include his main rival, Morgan Tsvangirai, who passed away in February 2018. Tsvangirai had served as prime minister in a power sharing agreement with Mugabe from 2009 to 2013.
The fact-checking team has been brought together by the Centre for Innovation and Technology (CITE), a hub for tech entrepreneurship in Bulawayo, Zimbabwe's second-largest city. The trainings - supported by Jigsaw, an incubator within Google's parent company, Alphabet - cover lessons we learned from tracking conversations around the Kenyan election, as well as various fact-checking tools that journalists can use during the election and in their day-to-day work.
Zimbabwe has one of the most active online communities in Africa, with many using WhatsApp, Facebook and Twitter to connect and engage with each other. While these tools have contributed greatly to online dialogue and discourse, they have accelerated the spread of misinformation. 
So we are also taking this opportunity to study Zimbabwe's online ecosystem and identify how information spreads. That way, we can ensure our approach is tapping into these networks to identify and counter misinformation. The ongoing challenge here is not just to find ways to counter the spread of misinformation, but also to make the truth 'go viral' in a similar fashion.
Elections are momentous things. They bring people together in unexpected ways, and unfortunately, they can also tear them apart. Their outcomes can either make or break nations. Getting accurate and timely information can be a challenge.
Fact-checking is a powerful way to fight misinformation. This was especially evident when we put our fact-checking tools and skills to the test during Kenya's repeat election, and we hope it helps Zimbabweans get to the truth as they elect their next president.
Eric Mugendi is PesaCheck's managing editor at Code for Africa, an ICFJ partner.