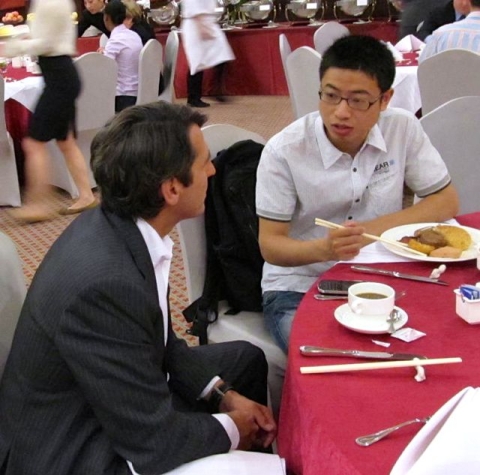 During introductions, they roundly applauded when 2012 graduate Wanjau Wairimu of Kenya announced that she plans to start her own business. Wanjau has been doing freelance video editing work and communications consulting in Beijing since obtaining her master's degree from Tsinghua University's School of Journalism and Communication. She hopes to start her own video post-production company.
"This was an impressive group," said John Mroz, president of the East-West Institute. He thought the international flavor of the journalism program was something his board members would be interested in. The institute has been working to promote better U.S.-China relations by opening up alternative communications channels between the countries. Sixteen GBJ students and alumni, half of them Chinese, chatted informally over breakfast with the board members.
James Breiner, co-director of the GBJ program, told the audience that the graduates of the program also contribute to better communication between the countries since they have been trained according to the best international journalism standards. "Our Chinese and international graduates are telling the world what is really happening in China today," Breiner said.
The GBJ program, in its sixth year, has 126 alumni. Graduates are working at media such as China Daily, South China Morning Post, People's Daily, Economic Observer, Bloomberg News, China Securities Journal, Korean Broadcasting System, Xinhua News Agency, China Central Television, Global Times, Radio Beijing and China Radio International, as well as multinationals such as Deloitte, Ogilvy & Mather, Saatchi & Saatchi, Shell, Sony Ericsson and IBM.
EastWest Institute, founded in 1980 and headquartered in New York, is an international, nonprofit policy association that describes itself as a global think-and-do tank, concentrating on security concerns and finding solutions to international problems. It also has offices in Brussels and Moscow, and sponsors public forums and private diplomacy initiatives in countries throughout the world.