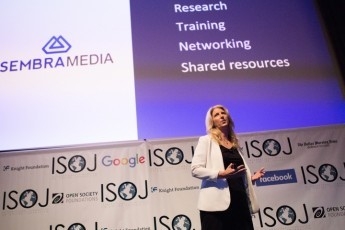 Two ICFJ Knight Fellows have been recognized for their work as top leaders in digital journalism and analytics by MediaShift, a U.S.-based publication covering the intersection of media and technology.
MediaShift named ICFJ Knight Fellow Janine Warner to its "MediaShift20: Recognizing Digital Media's Top Innovators" list and ICFJ Knight Fellow Pedro Burgos to its "MediaShift20: Honoring the Leaders in Media Metrics." Each list honors 20 top innovators who have made significant contributions to the news industry over the past year.
ICFJ Knight Fellows instill a culture of news innovation and experimentation worldwide. Their goal is to seed new ideas and services that deepen coverage, expand news delivery and engage citizens in the editorial process.
Warner is the co-founder and executive director of SembraMedia, a nonprofit organization helping Spanish-language digital entrepreneurs become more sustainable and successful. As an ICFJ Knight Fellow, she just launched an online school for entrepreneurial journalists, and she is creating a robust community for sharing best practices across borders. Among her many achievements last year was leading Inflection Point, the first major study of business models and market conditions of 100 digital news entrepreneurs from Argentina, Brazil, Colombia and Mexico.
San Diego State journalism professor Amy Schmitz Weiss, who nominated Warner for the MediaShift20, called her a true innovator. "Her organization has opened so many doors of opportunity and created a network that wasn't possible before," Schmitz Weiss wrote in the nomination materials. Warner said she shares the MediaShift honor with SembraMedia co-founder Mij Ebner and credits her team's resourcefulness with accomplishments "I never could have done alone."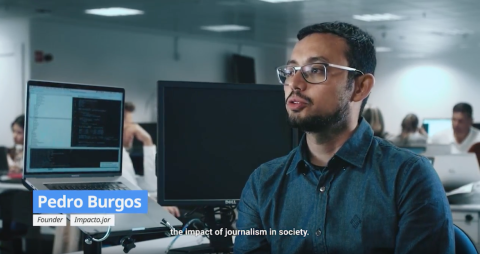 Burgos is a Brazilian journalist and software developer in Sao Paulo. As an ICFJ Knight Fellow, he is rolling out Impacto, a set of tools that help newsrooms measure the impact of their work on society. The project, which is supported by Google News Lab, is being tested in five Brazilian news outlets and will expand to other countries this year.
"It is remarkable to be included in this list while working outside the U.S.," said Burgos. "It seems the concept behind Impacto has caught a lot of people's attention, and I'm eager to share the project with American audiences."
Former ICFJ Knight Fellow Doug Mitchell, founder of NPR's Next Generation Radio, was also named to the Top Innovators list.
ICFJ is eager to share the Knight Fellows' work with journalists in the United States. If your newsroom is interested in any of the Fellows' tools or research, please contact Knight Director Ben Colmery or Deputy Director Sara Olstad.