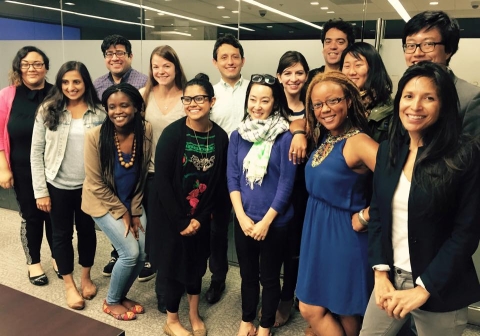 CHICAGO, May 27, 2015 - United Airlines announced that it has renewed its partnership with the Washington, D.C.-based International Center for Journalists' (ICFJ) and its Bringing Home the World: International Reporting Fellowship Program for Minority Journalists. United will serve as the sponsoring airline for several of the 2015 Fellows.
The Bringing Home the World Fellowship helps U.S.-based minority journalists cover compelling yet under-reported international stories, increasing the diversity of voices in global news. The program gives these journalists the opportunity to report from overseas and advance their careers.
"We are pleased to renew our partnership with ICFJ so that these accomplished Latino and other U.S. minority journalists can travel to Latin America and the Caribbean for their research and reporting projects," said Maria Cristina Osorio, United's director - international communications for Latin America.
ICFJ has selected 15 U.S. participants to report on a variety of issues for the 2015 Bringing Home the World program. Prior to the Fellows' overseas travel, ICFJ held an orientation in Washington, D.C. to prepare them for their international reporting work. The organization acknowledged the airline's support at a reception for the participating reporters during their time in Washington, D.C.
"Thanks to United's generosity, we are able to expand this important program," said ICFJ President Joyce Barnathan. "We can increase the number of minority journalists who can travel abroad to produce global stories of importance to their communities."
The 2015 Bringing Home the World Fellows, chosen from 65 applicants for the program, represent a variety of news organizations including the Associated Press, CNN Digital, and the Christian Science Monitor, as well as freelance writers. They will travel to Cuba, Mexico, Peru, and the Dominican Republic, among other countries, for their reporting assignments. While overseas, the Fellows blog about their experiences and share information about their assignments on social media.
The 2015 fellowship also is sponsored by the Ford Foundation, the Scripps Howard Foundation, the Samuel I. Newhouse Foundation, and the Brooks and Joan Fortune Family Foundation.
---
United in Latin America and the Caribbean
United operates more than 1,000 non-stop flights a week to 58 cities in 27 countries in Latin America and the Caribbean from its U.S. hubs in Chicago, Denver, Houston, Los Angeles, New York/Newark, San Francisco and Washington, D.C./Dulles. United serves 26 Mexican cities (more than any other airline from the U.S.), 10 cities in Central America, eight cities in South America, and 17 airports in the Caribbean.
About United
United Airlines and United Express operate an average of nearly 5,000 flights a day to 373 airports across six continents. In 2014, United and United Express operated nearly two million flights carrying 138 million customers. United is proud to have the world's most comprehensive route network, including U.S. mainland hubs in Chicago, Denver, Houston, Los Angeles, New York/Newark, San Francisco and Washington, D.C. United operates nearly 700 mainline aircraft, and this year, the airline anticipates taking delivery of 34 new Boeing aircraft, including the 787-9 and the 737-900ER. United is also welcoming 49 new Embraer E175 aircraft to United Express. The airline is a founding member of Star Alliance, which provides service to 193 countries via 27 member airlines. More than 84,000 United employees reside in every U.S. state and in countries around the world. For more information, visit united.com, follow @United on Twitter or connect on Facebook. The common stock of United's parent, United Continental Holdings, Inc., is traded on the NYSE under the symbol UAL.
About ICFJ
The International Center for Journalists (ICFJ) is at the forefront of the news revolution. Its programs empower journalists and engage citizens with new technologies and best practices. ICFJ's networks of reporters and media entrepreneurs are transforming the field. ICFJ believes that better journalism leads to better lives. For more information, visit www.icfj.org.