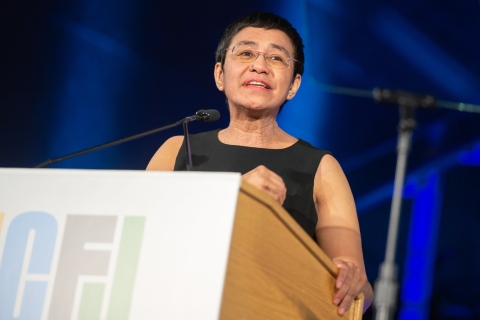 Updated Feb. 14: After spending the night in detention, Ressa was released today, telling reporters at a Manila court that it was the sixth time in two months she had posted bail. Ressa wrote on Twitter: "Finally out. Thank you for your support! #Holdtheline."
The International Center for Journalists (ICFJ) calls on Philippine authorities to immediately free Maria Ressa, founder of the independent news site Rappler, and to drop all charges against her.

Officers with the National Bureau of Investigation on Feb. 13 arrested Ressa, winner of ICFJ's 2018 Knight International Journalism Award, at her newsroom in Manila, according to Rappler.

The arrest stems from a cyber libel case against her involving a 2012 story about a local businessman, Rappler reported. It is the latest legal attack against the veteran journalist and her team, who also face several tax cases in court.

"We are outraged over Maria's arrest," said ICFJ President Joyce Barnathan. "Journalism is not a crime. Philippine authorities should release Maria immediately."

A judge rejected attempts by Ressa's lawyers to process bail on Wednesday evening, forcing her to spend the night in jail, according to news reports.

Before her arrest, Ressa told the Committee to Protect Journalists (CPJ) that the cyber libel charge was "political" and that "the law is being weaponized in an attempt to control the public narrative."

"We will not be intimidated and will continue to shine the light on actions of impunity," she said.

Rappler's hard-hitting reporting on President Rodrigo Duterte's disinformation campaigns and extrajudicial killings have made Rappler and Ressa targets of legal attacks. Journalists and other supporters have come to the defense of the veteran reporter, who was CNN's bureau chief in Manila and later Jakarta before going on to found Rappler in 2012.

In December, TIME named Ressa its 2018 Person of the Year, along with a group of other embattled journalists that included former Washington Post contributing columnist Jamal Khashoggi.