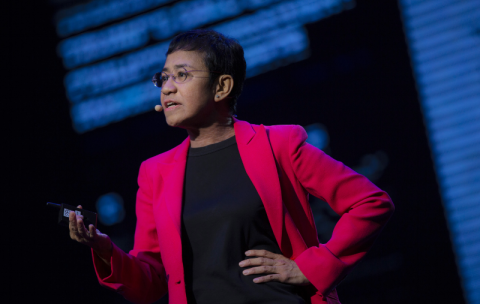 The Washington Post editorial board has called the online assault against Filipino-American journalist Maria Ressa "a worldwide warning," citing a new report from the International Center for Journalists (ICFJ) that revealed the intensity and ferocity of online violence directed against her.

The ICFJ research included an analysis of more than 450,000 social media posts about Ressa, the co-founder of Rappler and a 2018 ICFJ Knight International Journalism Award winner. Ressa faces trumped up legal charges in the Philippines designed to silence her and her independent news outlet. ICFJ conducted the research in collaboration with the University of Sheffield and Rappler.

One of the key findings was that much of the abuse and threats online are fueled by Philippines President Rodrigo Duterte's public statements demonizing Ressa and Rappler as criminals, and by pro-Duterte bloggers/social media influencers. Researchers also found that some of the attacks were orchestrated or coordinated, a hallmark of State-led disinformation campaigns. 

"An onslaught of online harassment against the award-winning journalist is appalling in its own right — and a devious strategy from a regime determined to destroy its most prominent critic," The Washington Post editorial board wrote.

They went on to point out: "There's real danger for Ms. Ressa beyond the courtroom: Female journalists have been murdered after threats overtook platforms; daily, Ms. Ressa is told she should be killed or 'publicly raped to death.' "

Social media platforms and countries devoted to preserving democracy have a duty to fight these broader trends, the editorial board wrote.

"Ms. Ressa also is not alone in the rest of the world, where women who work courageously as reporters, activists and more are routinely tormented on social media. That this torment can also become a tool of a cowardly and tyrannical state is only more alarming."

Washington Post media columnist Margaret Sullivan also wrote this week about the scourge of online violence against women, focusing on several high-profile U.S. women journalists who have been attacked, including Taylor Lorenz of The New York Times, who was pilloried by Fox News host Tucker Carlson on his show. Sullivan cited the Online Violence Response Hub, launched by the International Women's Media Foundation in a coalition with ICFJ and other organizations.

The Hub will provide support and resources to those facing online violence, and "it will be a place to turn to when the Internet gets especially ugly," Sullivan said.

ICFJ's report, a big data analysis on online violence directed at Maria Ressa was authored by Julie Posetti, Diana Maynard and Kalina Bontcheva. It is a product of a Participatory Action Research project partnership between ICFJ, the University of Sheffield, and digital news outlet Rappler. Graphika researchers contributed research and analysis.