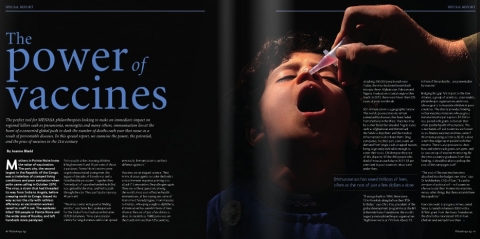 Journalists from Nigeria, Côte D'Ivoire (Ivory Coast), Pakistan and the United Arab Emirates are winners of the first journalism competition on coverage of vaccines and immunizations. In well-documented multimedia and broadcast reports, most spotlighted the challenges—and victories—in eliminating polio.
"The winners produced coverage that serves as lessons to all in how to conquer devastating yet preventable diseases such as polio," said ICFJ President Joyce Barnathan. "They have done a major service to the public and health officials by surfacing hurdles and successes."
The contest, launched by the International Center for Journalists (ICFJ) together with the African Health Journalists Association and the Arab Media Forum, aim to stimulate coverage in Africa, Pakistan and the Gulf states on this key issue. The New Venture Fund sponsored the initiative with a grant from the Bill & Melinda Gates Foundation. Winners earn a two-week study tour to the United States to explore in greater depth a variety of health issues.
The winners are:
Vivienne Irikefe, science and health correspondent, TVC News, Nigeria, for her story called "Polio Eradication in Africa: Experts Fear for Children Not Immunized." Irikefe focuses on Nigeria's failure to vaccinate all newborns against polio. The country is the only nation in Africa where polio is still endemic, with a troubling increase in recent years. With stirring images and powerful interviews, she drives home the horrors of the disease by profiling a victim who can't get a job because of the stigma of polio.
Nadia Naqi, current affairs anchor, News One Television, Pakistan, for her half-hour program called "Problems of Eradicating Polio from Pakistan." She explores why the country has failed to eliminate the disease, investigating negative perceptions by the public of the polio vaccination, security risks facing health workers giving vaccinations, and parental ignorance. With a wide range of interviews, she identifies the hurdles and suggests ways to overcome them. The piece is particularly poignant because it starts and ends with moving stories of polio victims.
Suy Kahofi Jischvi, web editor, Avenue 225 news site, Côte D'Ivoire, for his report, "Fight Against Polio: Côte D'Ivoire Seeks WHO Certification." Jischvi dissects the successful polio eradication campaign in a poor country that has seen only isolated cases in recent years. He identifies the steps the government took to conquer the disease, and also documents the prejudices against vaccines in remote villages.
Joanne Bladd, editor/reporter, Philanthropy Age magazine, United Arab Emirates, for her report, "The Power of Vaccines." Her well-researched, data-rich piece focuses on the economic challenges of distributing vaccines to those who need them most around the world. She describes initiatives like the Global Alliance for Vaccines and Immunization (GAVI), which is successfully driving down the price of vaccines in developing countries. She surfaces a range of barriers to distributing vaccines in rural areas with little infrastructure.
Fourteen prominent international journalists chose the winners from more than 200 submissions. Among other criteria, the judges looked for in-depth reports that effectively used strong images and graphics, citizen voices and open data.
The winners will meet leading global health experts during their U.S. study tour. Each will receive a $500 cash prize.
Four second-place finalists also won $500 awards. They are:
• Melaku Berhanu Tesfay, managing editor, Addis Guday weekly magazine, Ethiopia, for his story "Life-Threatening Circumstances Can Be Avoided With Little Effort"
• Florence Naluyimba, reporter, NTV Uganda, for her pieces "One Added Health Worker Makes a Difference" and "Immunization: Criminalize Negligent Parents?"
• Arsla Jawaid, associate editor, SouthAsia Magazine, Pakistan, for her report "Battling Polio"
• Hossam Mohammed Hagrass, reporter, Saudi Newspaper Today, for his article "Al Youm News Interviews the Person Who Discovered 'Coronavirus,' Which Was First Identified in a Saudi Patient"
A representative from the winning news organizations will be invited to attend ICFJ's Awards Dinner on Nov. 7 in Washington, D.C. The annual event honors the achievements of colleagues whose outstanding news reports or media innovations have made a huge impact.
---
About the International Center for Journalists
The International Center for Journalists advances quality journalism worldwide. Our hands-on programs combine the best professional practices with new technologies. We believe that responsible journalism empowers citizens and holds governments accountable. For more, visit www.icfj.org.
About the African Health Journalists Association
The African Health Journalists Association (AHJA) is an association of health journalism organizations and journalists dedicated to promoting and providing quality media coverage to improve the lives of people across Africa. With a secretariat located in Lagos, Nigeria, and a steering committee of journalists from across the continent, AHJA is the first-ever pan-African association of health journalists.
About the Arab Media Forum
Over the past 11 years, the Arab Media Forum (AMF) has successfully positioned itself as the Middle East's most prominent media event and a leading international platform that provides in-depth analysis of the media industry landscape. With continuous support from UAE Vice President, Prime Minister and Ruler of Dubai H.H. Sheikh Mohammed bin Rashid Al Maktoum, the Arab Media Forum has become an essential tool to gauge and catalyze the development of the media industry in the region and a stage attracting top decision makers, influential opinion leaders, media experts and intellectuals from across the globe.