Journalists in Sub-Saharan Africa, Pakistan and the Gulf States have a chance to win a trip to the United States or cash prizes as part of three regional competitions to recognize the best media coverage of vaccines and immunizations.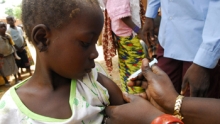 Stories published or broadcast in Sub-Saharan Africa, Pakistan and the Gulf States between March 15 and May 15, 2013, which includes World Immunization Week (April 24-30), will qualify for the regional contests. The deadline for submitting stories is May 20, 2013.
Each top winner will receive a cash prize and a two-week study tour to the United States.
Entries must relate to diseases that are preventable or treatable with vaccines, such as polio, measles and pneumonia. Topics may include:
Discovery of new vaccines
Testing of vaccines
Public attitudes toward vaccination
Innovative approaches to delivery of vaccines
The efficacy or failure of vaccination campaigns.
Journalists working in each region for print, broadcast or online media qualify. The contest also is open to affiliated freelance journalists. Submitted work must have appeared in a media outlets based in each region or distributed mainly in the region. Submissions may be made in English, Arabic (Gulf), Urdu (Pakistan), or English, French, Portuguese or Amharic (Africa). Submissions in other languages must include an English translation. Applicants may submit more than one entry. Click here for criteria. Applicants may submit more than one entry.
Winners will be announced on July 1, 2013. Please post stories you enter on Twitter and use the hashtag #vaccinestory.
Sub-Saharan Africa contest
Pakistan contest
Gulf contest
The program is administered in partnership with the African Health Journalists Association and the Arab Media Forum.
Program Dates:
3/14/2013 - 5/14/2013
Contact Info
International Center for Journalists
2000 M Street NW
Second Floor
Washington, DC 20036
Tel: (202) 737-3700