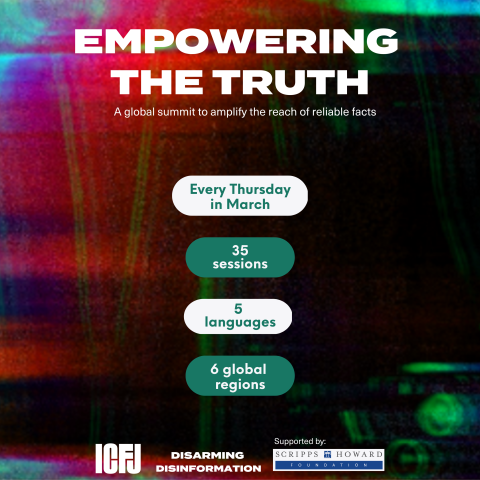 Registrations are now open for journalists, fact-checkers and students across six regions of the world to stop what they are doing every Thursday in March to focus on a big and pressing challenge: How to present and share factual content so that it takes off, undercutting fast-spreading disinformation.
The Empowering the Truth Global Summit offers a series of weekly training sessions tailored for participants in Central and West Africa, Central Europe, Latin America, the Middle East and North Africa, North America and South and Southeast Asia. Participants will learn skills to help them amplify the reach of reliable facts – and be eligible for funding to pursue groundbreaking multimedia projects that make facts go viral.
Expert trainers with regional knowledge will lead 1.5-hour classes for participants in Arabic, English, French, Hungarian or Spanish, depending on the region. Each region will also have classes tailored to the region on the following topics: audio/podcasts, video, content design, strategic communications and audience engagement. Participants may register for any session regardless of the region they are based.
All sessions will be online, except from Central Europe, where the event is going to happen in-person, in Budapest. The trainings are being organized by ICFJ's Pamela Howard Forum on Global Crisis Reporting (Americas, Middle East and Africa), the Center for Independent Journalism (Central Europe) and BoomLive (South/Southeast Asia).
The summit kicks off in February with keynote talks on the anatomy of disinformation in each of the target regions. Following the summit, participants who attend at least three of the five sessions will be eligible to apply for grants and mentorship to develop innovative multimedia projects that break new ground in spreading factual information. Register for individual events at the links below. Session times may change. Check back later for confirmed times.
Empowering the Truth is part of Disarming Disinformation, run by ICFJ with lead funding from the Scripps Howard Foundation, an affiliate organization of the Scripps Howard Fund, which supports The E.W. Scripps Company's charitable efforts. The three-year project will empower journalists and journalism students to fight disinformation.
Français
Les inscriptions sont désormais ouvertes pour "Empowering the Truth", une conférence mondiale pour amplifier la portée des informations fiables. Des journalistes, des vérificateurs de faits et des étudiants de six régions du monde cesseront leurs activités tous les jeudis du mois de mars pour se concentrer sur un défi de taille et pressant: Comment présenter et partager un contenu factuel pour qu'il devienne viral et l'emporte sur la désinformation qui se propage rapidement.
Magyarul
Megkezdődött a regisztráció a "The Empowering the Truth Global Summit" rendezvényeire. Márciusban minden csütörtökön világszerte öt régióban újságírók, tényellenőrzést végző kutatók és diákok foglalkoznak majd szakmai rendezvényeken korunk egyik nagy kihívásával: Miként lehet tényszerű tartalmakat készíteni és terjeszteni úgy, hogy azok eljussanak a szélesebb közönséghez és visszaszorítsák a médiateret elárasztó dezinformációt?
Español
Ya están abiertas las inscripciones para para la Conferencia Mundial "Empowering the Truth". Periodistas, verificadores de hechos y estudiantes de seis regiones del mundo pondrán en pausa sus actividades todos los jueves de marzo para centrarse en un reto importante y apremiante: cómo presentar y compartir contenidos basados en hechos para que se difundan y contrarresten la desinformación que se propaga rápidamente.
اللغة العربية
التسجيل مفتوح الآن للمؤتمر العالمي لتمكين الحقيقة. كل يوم خميس من شهر مارس، سيتوقف الصحفيون/ت ومدققو الحقائق والطلاب عبر ست (6) مناطق في العالم عما يفعلونه للتركيز على تحد كبير وملح وهو: كيفية تقديم محتوى موثوق ومشاركته عبر نطاق واسع للحد من الانتشار السريع للمعلومات المضللة
English
English
Program Dates:
3/2/2023 - 3/30/2023