Three U.S.-based journalists will be selected for a 19-day reporting trip in Japan, to be conducted between May and September 2018, in the fifth year of ICFJ's "Illuminating Today's Japan for American Audiences" program. The participating journalists will work with an experienced Japanese interpreter and fixer, and are expected to dig into the economic, social, cultural, environmental and energy-policy challenges facing the country. ICFJ will consider program alumni for one spot.
Although the world is interconnected as never before, international news coverage is likely at an all-time low. As important as Japan is in the constellation of U.S. relationships abroad, Japan's appearances in the news reflect neither its global importance nor that of the Japan-U.S. relationship. This program, organized by ICFJ and funded by the U.S.-Japan Foundation, will help to make independent coverage of neglected issues possible. As a result of this program, American audiences will receive fresh, innovative coverage of topics that highlight Japan.
Former participants have produced stories for media outlets including McClatchy, NPR, Al Jazeera America and more.
The participants will be selected based on the quality of story idea, as the story should have immediate relevance to the journalist's own community. Examples of issues that journalists could explore include business, trade, energy, culture, immigration and climate change. Other key considerations include the journalists' professional qualifications, level of experience and their media organization's audience.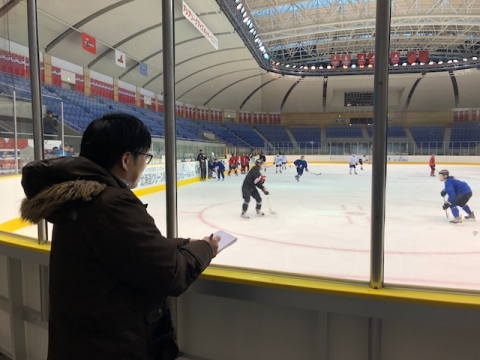 PHASE 1: Program Orientation: mid-March-April 2018
Before the selected journalists travel to Japan to begin reporting, ICFJ program staff, the participant and the Japanese fixer and interpreter will convene in a series of web conferences using Google Hangout. These opportunities will acquaint the journalists with one another and the Japanese interpreter-fixer who will assist them during their 19-day reporting tour. The Google Hangout sessions will also offer an opportunity to discuss the journalists' story ideas, suggest ways to fine-tune their approaches, determine their travel schedule, and identify key people to interview. ICFJ program staff will assist with travel arrangements, visas and other logistics. Orientation will take place in late March/early April 2018, on a date convenient to all parties.
PHASE 2: Individual Travel and Tour: between May and September 2018
After the orientation program, the journalists will depart for their 19-day reporting tour accompanied by an experienced Japanese reporter and journalist. The participants will work with the Japanese expert to organize necessary meetings and plan travel around Japan.
PHASE 3: Return and completion of reporting: between September and December 2018
After the American journalists return home, each journalist will complete his/her story for publication or broadcast. ICFJ will use its own website to promote the stories. Each journalist is expected to publicize his/her story via social media and professional connections.
The applicant's topics for reporting must be in line with the objectives of the fellowship:
Increase media coverage of key issues in the US-Japan alliance
Educate members of the media on important issues in Japan and their connection to the U.S.
Bridge the gap between local U.S. cities/industries and Japan
Applicants must have a guarantee that at least one report or article will be broadcasted/published by U.S. media.
Applicants for this fellowship are closed. However, if you are a U.S. citizen and interested in a similar opportunity, please look into our Sasakawa USA-ICFJ Emerging Experts Delegation (SEED) Program.
Program Dates:
11/14/2017 - 12/31/2018
Contact Info
Jacqueline Strzemp
Program Director
jstrzemp@icfj.org