This is the first time that I'm engaged in this kind of [long-form] storytelling. It is really exciting! I learned a lot from this program and it will help me become a true multimedia journalist. 
– Gabit Bokenbay, Reporter at Qazaqstan TV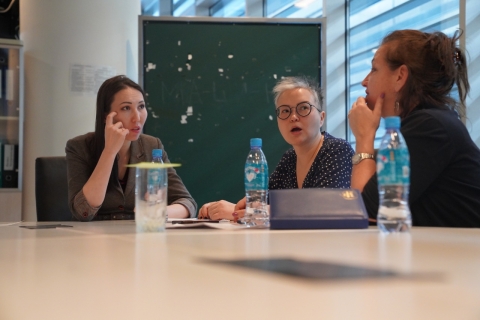 The International Center for Journalists is partnering with the U.S. Embassy in Astana to help newsrooms in Kazakhstan improve their quality of reporting and attract and engage local audiences.
The program will recruit up to 10 U.S. media experts who will provide tailored coaching and guidance to as many as 20 broadcast and online newsrooms to help them overcome their unique challenges and attract Kazakhstani audiences.
The consultation period will last six weeks, with a four-week virtual component. The U.S. consultant will travel to Kazakhstan for one week at the beginning and at the end of the consultation.
Consultant Opportunity: 
We are currently seeking multiple media consultants for this program. Please see the position here for more information on selection criteria and how to apply.
Program Dates:
10/1/2018 - 9/30/2022