Impulso Local 2022 is a program designed to support independent journalists and media outlets in Argentina. During six months, this project will support national, local and hyper-local media developing projects that will contribute towards sustainable business models, while bringing quality news and information to their respective communities.
"At this critical moment in the digital transformation of media ecosystems across the world, Impulso Local combines practical training with grants that strengthen the sustainability and independence of media outlets in Argentina" said Patricio Provitina, Senior Program Director at ICFJ.
The first phase of the program provides trainings covering the following topics: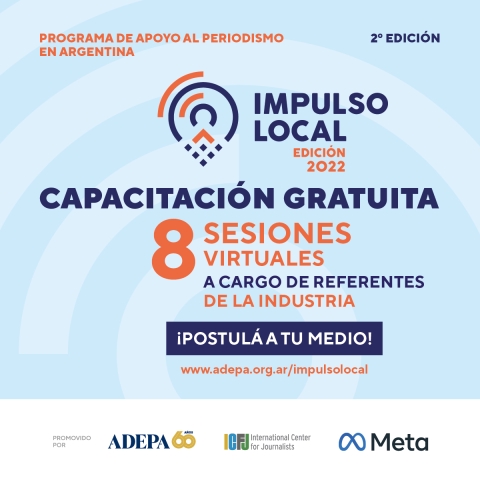 Sustainability
Business models and sources of financing
Financial planning and administering international projects
Audience development
Content product and innovation
Team and leadership management
Project management
Budgeting and administering grants
The trainings will take place in October-December 2022 on Zoom. Sign-up here for the program! The application closes Monday, October 17th, 2022 at 11.59pm Argentina time. 
During the second phase of the program, up to 100 news outlets will compete for seed-funding to implement media sustainability projects. The organizations will also receive additional training, mentoring and access to exclusive webinars.
To register for the second phase of the project, news outlets must have attended at least 6 sessions, submit a project proposal with sustainability objectives, a budget, and as accept the terms and conditions of the program.
Learn more about the program here.
Program Dates:
10/28/2022 - 10/31/2023