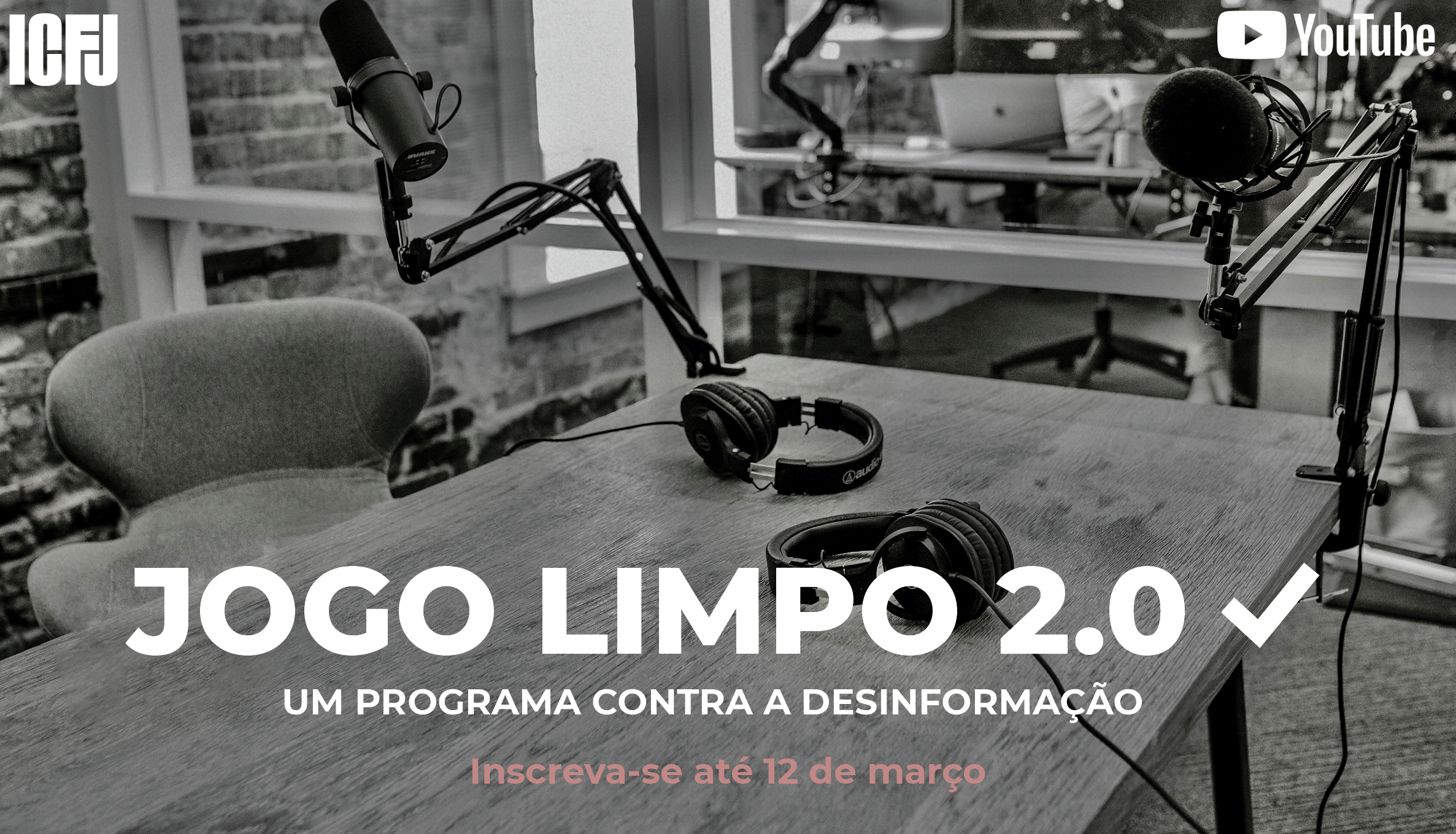 This program to combat disinformation, created by ICFJ and financed by YouTube Brasil, will have a second edition and will support even more projects.
The first edition of Jogo Limpo supported Brazilian journalists in developing innovative projects to combat disinformation in the 2022 elections. In 2023, continuing the partnership with YouTube Brazil, we are launching the second edition of the program: Jogo Limpo 2.0. Through this initiative, ICFJ seeks to support methods and models to promote factual content that resists the dissemination and the impact of fake news. This is in addition to supporting and empowering journalists, fact-checkers and the entire Brazilian media ecosystem.
"Jogo Limpo 2.0" is a program fully funded by YouTube Brazil.
---
How will "Jogo Limpo 2.0" work?
Projects eligible to apply for "Jogo Limpo 2.0" are those that are focused on combatting disinformation and that fit into one of the three categories below. See below for examples:
Content Production

Construction and testing of new fact-checking formats
Launching new products or services related to fact-checking
Launching new collaborative efforts to combat disinformation on the national and/or regional level
Reaching and engaging new audiences
Mapping disinformation and/or the use/dissemination of fact-checking

Technology Development

New or updated chatbots
New or updated databases
Tools capable of tracing/monitoring the dissemination of disinformation
Tools that support storytelling to combat disinformation

Media Literacy

Workshops, webinars, or other trainings
Supporting authorities and organizations in understanding and combatting disinformation
---
All of the projects should:
Be related to combatting disinformation in Brazil
Demonstrate a strong sense of creativity and innovation
Have a strong relationship to journalism and media
---
Who can apply?
Proposals can be sent by journalists, fact-checkers, and collaborative teams (including professionals who are not journalists, provided that they have worked to combat disinformation in their field in the last six months).
Applications by both individuals and organizations will be accepted. Individuals must be of legal age and cannot currently hold public office.
---
Candidates will be divided into two categories:
Primary Candidates: fact-checking agencies, journalists, or media organizations with demonstrated experience in combatting disinformation can apply as primary candidates. These candidates will be responsible for filling out the application forms and be the point of contact throughout the selection process. In order to incentivize collaboration, primary candidates can partner with secondary candidates and submit up to two proposals (each with a different secondary candidate).
Secondary Candidates: Researchers, academics, technology developers, students, and other professionals that have demonstrated experience in projects related to journalism and media, especially with combatting disinformation, can partner with primary candidates for the project proposal. Secondary candidates cannot apply independently and they can only apply with a primary candidate.
---
What will the selected candidates receive?
Up to $13,750 USD per project
5 months of mentorship
Opportunity to announce their initiative with the support of ICFJ and YouTube Brazil
---
Program Timeline
Application period: January 24, 2023 to March 12, 2023 (until 11:59pm on Sunday)
Announcement of the winners: April 17, 2023
Administrative and financial processing period: April 18, 2023 to May 15, 2023
Development, financing, and mentorship: May 16, 2023 to October 16, 2023
---
Selection Criteria
A jury composed of independent specialists will work with ICFJ to select the winning projects. The group will use the following questions to grade the diverse projets:
Is the budget submitted with the project no more than $13,750 USD?
Is it an innovative and creative initiative?
What is the potential impact of the project?
How scalable or adaptable is the proposed project?
Can the project be completely developed and implemented within the deadline and allocated budget?
Does the project include clear KPIs and a plan for measuring those KPIs?
---
FAQ:
How much does it cost to apply for the program?
The program is completely free for the participant.
How many project proposals can I submit?
Each candidate can send only one project. However, primary candidates that have partnerships with secondary candidates can send up to two proposals, given that each proposal is with a different secondary partner.
Can foreign organizations apply?
Yes, as long as there is at least one Brazilian on the team and at least one member fluent in Portuguese. "Jogo Limpo 2.0" also requires that its winners use at least 70% of their financing in Brazilian territory.
Can I submit a project that is related to technology or education?
Yes, as long as the project has a strong journalistic bias and seeks to improve Brazil's media ecosystem, with a focus on tackling disinformation.
Can an individual submit a proposal?
Yes, as long as they are of legal age, do not hold public office, and have proven experience in combatting disinformation. The application will require proof of at least 6 months of work on this front.
Can an organization submit a proposal?
Yes, as long as they have proven experience in combatting disinformation. Enrollment will require proof of at least 6 months of work on this front.
Program Dates:
1/24/2023 - 11/30/2023