India: Pioneering Interactive Data Storytelling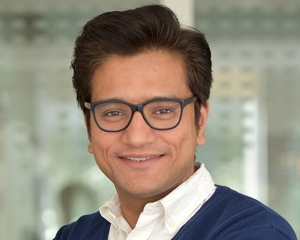 ICFJ Knight Fellow Ravi Bajpai helped top Indian newsrooms improve their coverage of critical health and development issues, including water, organ donation and sanitation. He provided key editorial and storytelling innovation support for media to use more data, interactives and multimedia elements in their journalism. Based in New Delhi, Bajpai worked with both traditional and digital-first media outlets.
Bajpai was part of a team of ICFJ Knight Fellows in India helping local journalists to use the tools and practices necessary to create sustained, in-depth coverage around health, gender and development storytelling. Their goal: to reinventing coverage of these critical issues and giving citizens and policymakers the information they need to make better and healthier decisions.
He worked with major Hindi-language newspaper Dainik Jagran to build Jal Jagran, the first-ever data-driven project on water issues by a Hindi news outlet. The project compares the availability and quality of groundwater across districts Uttar Pradesh, India's most populous state. It helps audiences discover how rainfall, population growth and an increase in paved areas affect groundwater.
This project is presented using a new "data dashboard" format that includes links to all relevant stories (including new and archived content); data and analysis; a social media feed to capture the larger public conversation; and other visualizations. This presentation is important because stories about health and development issues are often scattered among daily coverage and hard for audiences to find. This hinders readers' ability to discover quality content, and to understand the full picture of an issue. ICFJ tech support partner Pykih and ICFJ Knight Fellow Ritvvij Parrikh also helped develop this template.
Bajpai, along with ICFJ associate Furquan Siddiqui, mentored reporters on data journalism at Jagran Central India affiliate NaiDunia. This work paved the way for the launch of a dedicated data journalism portal, called NaiDunia Research, with some 20 stories that use data to add context to complex news topics.
Before becoming an ICFJ Knight Fellow, Bajpai established the digital team of the Hindustan Times, one of India's leading national news dailies. Prior to that, he managed the Delhi city bureau at the The Indian Express and served as the Mail Today Deputy Bureau Chief for the city reporting team. He is the founding editor of multimedia news magazine Climate Journal Asia. He has been a visiting faculty at the Express Institute of Media Studies, AJK Mass Communication Centre and Indian Institute of Mass Communication.