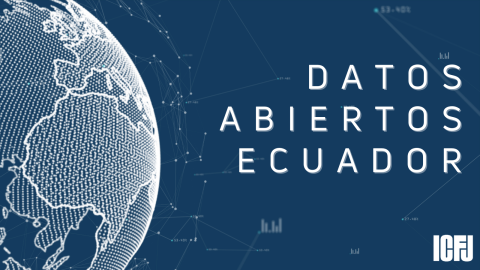 Lee en español.
Based on the success of the Open Data Panama and Open Data Costa Rica programs, Open Data Ecuador aims to link journalists, civil society advocates, and data experts to collaborate on projects that use open data to uncover stories of public interest on topics such as corruption, security, governance, gender inequality, illegal immigration, and illicit trafficking. The program will provide training to Ecuadorian journalists on how to access and interpret public data, as well as educate participants on how to use digital tools to process and publish data-driven investigative reports that encourage civil society engagement. Participants will also learn how to use these digital tools to enhance journalistic storytelling through data visualization.
Program Activities:
Open Data Ecuador will encourage new journalism projects making use of public data while empowering citizens in their efforts to promote government transparency and accountability in Ecuador.
In collaboration with Connectas, a Latin American investigative journalism platform, the Open Data Ecuador program will offer coaching and mentoring during the process of story development.
The program will focus on three main activities:
2 four-week virtual workshops which will each bring together 20 journalists and data experts, who will receive training on how to use open public data to shed light on public interest issues. The instructor for the first workshop is Sandra Crucianelli, and for the second workshop is Hassel Fallas;
Online editorial coaching and mentorship from ICFJ partner organization Connectas; and,
Journalists who participate in the virtual workshops and mentorship will be eligible to apply to receive 4 small reporting grants of up to $3,000 each for data and investigative projects.
Journalists working in the areas of Pichincha, Guayas, Manabi, Azuay, Loja, and Esmeraldas are especially encouraged to apply.
How to apply:
Applications for the program are closed.
Program Dates:
3/31/2021 - 1/28/2022