I gained new skills and [became] acquainted with digital developments in the field of journalism.
                                                                                              - Participant in Tunisia
Since 2019, ICFJ has reached over 7,200 journalists from the Middle East and North Africa (MENA) region on strengthening the quality of reporting and building stronger connections with their audiences.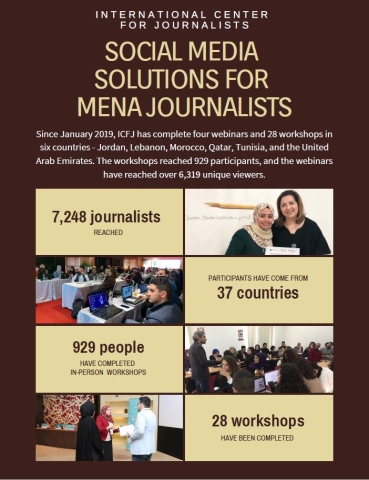 Through 28 in-person workshops in 6 different countries and 4 region-wide webinars, participants were trained on verification, digital security, engagement and storytelling. Over 900 of these journalists attended in-person workshops while the webinars reached over 6,300 participants from 37 countries.
Some highlighted results from the program include:
90% of webinar respondents from post-surveys said they are using lessons learned from the workshops in their regular reporting 

52% of workshop respondents from post-surveys reported an overall improvement in their skill level using social media tools

All previous webinars can be found on the IJNet Arabic Facebook page. View their video library here.