Applications for this program will open soon.
Signup for the program's newsletter below.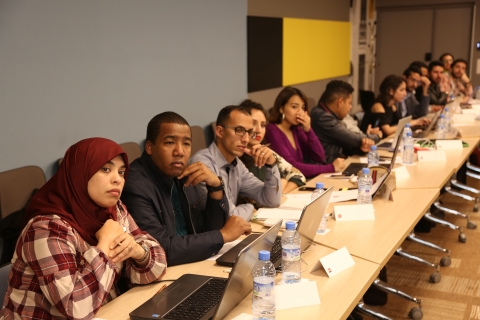 The International Center for Journalists (ICFJ), in partnership with the Meta Journalism Project, is supporting Arabic-speaking journalists and content creators with the latest digital skills, resources, and tools to boost their storytelling and amplify their reach through specialized training in four main areas: Storytelling, Video Reporting, Data Journalism, and Audience Development and Engagement.
The program includes:
Twenty-four 90-minute webinars, led by expert trainers and followed by a Q&A session.
20 grants, each approximately $1,500, to support participants as they apply lessons learned from the training to new projects
Dedicated mentoring to selected grantees to guide them as they develop their reporting projects.
About the program
Beginning in 2019 under the name "Social Media Solutions Training," the previous version of this program focused on verification, fact checking, storytelling and audience engagement skills. Through the Social Media Solutions Training, thousands of participants gained the skills to engage audiences more effectively, improve their digital storytelling, better protect themselves online and vet possible misinformation using the latest fact-checking techniques. The program has previously covered the following core components: Verification, Audience Engagement, Digital Storytelling Methods, Digital Security.
ICFJ is now expanding the Social Media Solutions program to provide journalists with the latest tools and best practices in storytelling, data journalism, video reporting and audience engagement skills. Engage will replace the "Social Media Solutions Program" and offer eight expert-led Arabic sessions on all four topics, each followed by a Q&A session. In addition, 20 participants will receive grants and mentorship to pursue reporting projects that build on the lessons learned. 
The training will be live streamed through the Meta Journalism Project's vibrant Facebook group which has brought together more than 2400 Arabic-speaking journalists.
Sign up for the program's newsletter
Eligibility Requirements 
All Arabic-speaking journalists, content creators, and journalism students are eligible to participate in the training webinars.
Previous Activities 
From January 2019 to September 2022, more than 11,000 journalists have taken part in the Arabic-language initiative, in a region facing serious challenges on a host of fronts. A total of 62 online courses have been held in addition to in-person trainings in Jordan, Lebanon, Morocco and Tunisia. About 800 of these journalists attended in-person workshops.
Journalists have been trained on safety and digital security, verification and fact-checking, audience engagement strategies, and digital storytelling techniques. Participants joined virtually from over 50 countries, with the highest attendance rates coming from Egypt, Morocco, Yemen, Syria, Tunisia, Turkey, Iraq, Jordan, Lebanon, and Algeria. 
ICFJ funded 49 reporting grants to provide financial support and guidance to journalists across the MENA region. Each grantee benefited from specialized mentoring and guidance for approximately six weeks. Participants were awarded grants ranging from $1,500-$2,500 to help them produce stories using their improved knowledge and skills.

Partnerships

The Meta Journalism Project has also partnered with ICFJ on the Journalism Ethics Training in the Middle East and North Africa and the Supporting Beirut: Response and Recovery Fund. Read more about these programs here and here.
Program Dates:
10/25/2022 - 8/31/2023