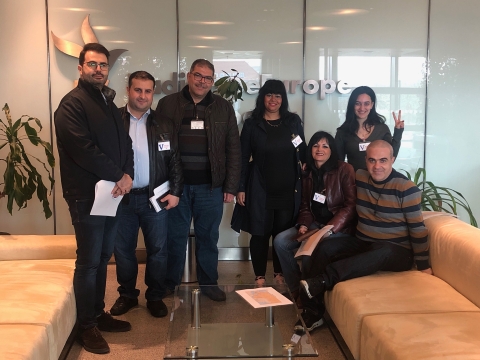 In recent years, Eastern European countries have been overrun with propaganda and disinformation, resulting in a decline of public trust in the media. As the misinformation crisis expands rapidly across borders, it's more important than ever for journalists of different backgrounds to come together to find solutions.
The International Center for Journalists (ICFJ) will conduct a 10-day reporting, interviewing and fact-finding tour for 9 Arab journalists in Eastern European countries.
The program is designed to shed light on Europe's efforts to counter Russia's hybrid warfare by giving journalists the opportunity to meet with those who have experience in combating misinformation.
About the Program
Journalists will spend five days in the Czech Republic and three days in Latvia - two countries on Russia's periphery that are countering state-sponsored campaigns of mis/disinformation meant to destabilize democratic systems, sow distrust among allies and undermine economies.
Modeled after the Reporting Tour for Egyptian Journalists in South Korea and Japan, participants will be placed in a region that is probably the world's first battleground in ongoing hybrid warfare. They will meet with journalists, researchers, policy experts and public officials who have a special interest in combating and informing others about the struggle against mis/disinformation.
The program aims to:
Forge lasting ties among program participants as well as their counterparts in visited countries
Display efforts in each country to educate the public and officials on the crisis of mis/disinformation
Craft cross-border strategies to combat information designed to mislead
The tour is sponsored by the U.S. Embassy Cairo, with support from the Bureau of Near Eastern Affairs.
Program Dates:
9/23/2018 - 9/30/2019